Building safer communities with Creative Placemaking: Report highlights four innovative programs from across the nation
Kids and cops play beach volleyball together as a community festival with local crafts, foods and activities swirl around them.
Milwaukee neighborhoods reconnect to one another with a trail corridor of safe, culturally significant public gathering places.
Returning citizens in Philadelphia shred prison records to make raw material for new paper – on which they pen their intentions for a fresh start.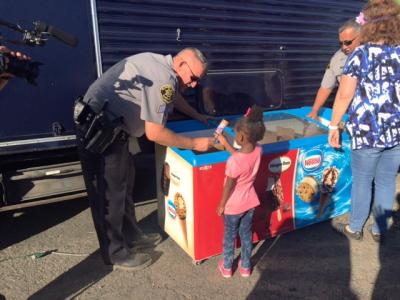 Each is an example of how Creative Placemaking can help build community safety by promoting safe spaces, understanding, empathy and well-being. Each is also part of one of four Creative Placemaking projects profiled in a new report authored by, and featuring case studies from, Kresge Foundation partners.
"Creative Placemaking and Community Safety" was published by the Urban Institute with support from ArtPlace America and the Local Initiatives Support Corp. (LISC) – all Kresge partners in other Creative Placemaking projects. It highlights four very different community efforts in low-income communities across the country, aiming to identify themes and strategies that link Creative Placemaking to community safety and to explore challenges and evaluation techniques. Profiled projects included:
All the organizations profiled in the case studies have received support from The Kresge Foundation, either directly or indirectly.
"Practitioners working on community safety have increasingly incorporated Creative Placemaking techniques into their work," wrote Mark Treskon, a research associate at the Urban Institute in a blog post. "Creative Placemaking  …. incorporates "traditional" arts-related efforts like murals, music, sculpture and dance, but it can also refer to place-based efforts that promote entrepreneurship, use space in novel ways, and creatively engage government and law enforcement, the private sector, community organizations and residents."
Key activities that were common to most of the projects included the activation of underused spaces, creating a sense of play and interaction among residents, giving local people a voice and stake in decision-making, building resilience and skills and turning boundaries between neighborhoods and cultures into shared borders with positive interactions.
Treskon said the report provides insight, but no silver bullet.
"By promoting shared experiences and building empathy, arts and culture can help people from different backgrounds and with different experiences better understand one another. But this work can also identify boundaries, inequities, and power dynamics that cannot be wiped away by a single effort."