Building equitable climate resilience topic of Kresge program officer's Capitol Hill briefing remarks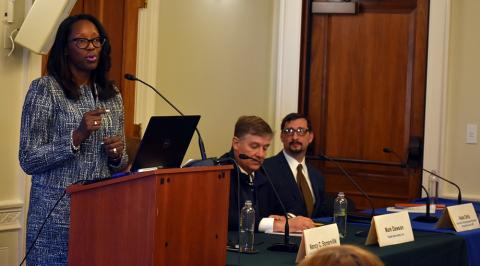 Building community resilience to climate change impacts in ways that don't perpetuate historical injustices and inequities was the topic of remarks given by Kresge Senior Program Officer Jalonne White-Newsome this week during a Capitol Hill briefing in Washington, D.C.
White-Newsome was part of a panel presentation, "Green Infrastructure: A Blueprint for Climate Resilient Communities," hosted by the American Society of Landscape Architects and the Environmental and Energy Study Institute on Tuesday, March 5.
She traced the history of environmental justice in the U.S., explained how climate change impacts disproportionately harm low-income neighborhoods and communities of color, and challenged the attendees to work to implement inclusive green infrastructure solutions.
"Communities should always speak for themselves," White-Newsome told the audience. "That means they actually have to be in the room, not just after the solution is already created."
A recording of the briefing is available here.