AXD series is back as Zoom event, book and podcast
Kresge Artist Fellows and Gilda Award winners took projects to neighborhoods across Detroit and beyond
AXD, the series launched in 2019 to bring Kresge Artist Fellows and Gilda Award winners to Detroit, Highland Park and Hamtramck neighborhoods, is back this week as a Zoom event, a limited-edition catalog and an eight-episode podcast.
The 22 AXD commissions presented from June 2019 through February 2020 challenged artists to mount projects that reflect the significance, ambiguity, resilience and uncertainty of this contemporary moment in the city. That notion was summed up in the curatorial shorthand of "Living X."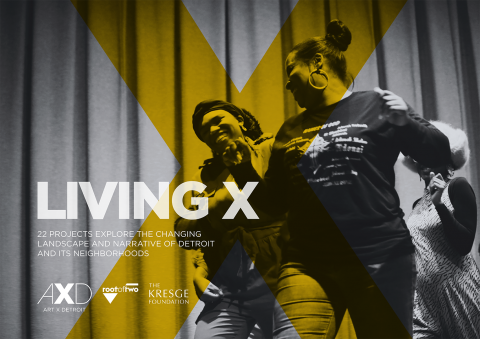 The performances, exhibitions and events reflected on Detroit's legacy and evolution, while examining what it means to be both artists and residents at this transformative moment.
AXD, which is supported by Kresge's Detroit Program, is managed by Detroit-based rootoftwo, the creative studio known for engaging in civic future-making projects and works in the public realm.
"We've seen our partners at rootoftwo reimagine Art X to connect the energy of Kresge Artist Fellows and Gilda Award winners not only with audiences in Midtown, but with neighborhoods and residents across the city. Now there are further connections to be made through this volume and the AXD podcast," said Wendy Lewis Jackson, managing director of Kresge's Detroit Program. "This platform for exchange and fresh thinking will channel the energy of artists and communities into conversations that converge at the intersection of Living X." 
The Zoom event will take place Wednesday from 6:30-8:00 p.m. EST. Artists participating in the Zoom event include Sacramento Knoxx, Marsha Music, Senghor Reid, The Hinterlands and Julia Yezbick. Registration is available here. Zoom link and pass code will be provided upon registration.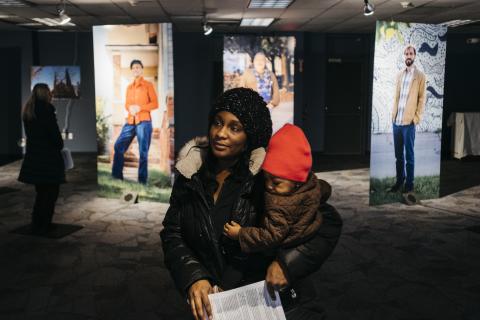 The catalog commemorates the artist projects of AXD 2019-2020. Copies of the catalog can be requested while supplies last or downloaded here. The AXD Podcast can be accessed here.
"This catalog and the accompanying AXD podcast got started just as Michigan, most of the country, and the rest of the world went into lockdown because of the COVID-19 pandemic," said Cézanne Charles, AXD's Curator and Director.
"This is a moment of reckoning, where community-based movements are working resolutely to demand and deliver progressive social transformation."
COVID-19 restrictions impacted the completion of three AXD artists' projects that were due to premiere in spring and summer 2020. Those artists will be highlighted in the catalog as contributing 'works in progress.'

Given the power of art to engage and inspire transformative thinking, Living X is a timely response to events affecting the community and the world.
The Living X Podcast is hosted by Ryan Myers-Johnson, Executive Director of Sidewalk Detroit. It features the voices of artists and partners who contributed to AXD 2019, including Taylor Aldridge and Jennifer Harge (FLY | DROWN), Robert Jones (Detroit: Twenty Minutes Apart), Marion Hayden (Highland Park: City of Ogun), Pam Wise (Matrix X Detroit), Emilio Rodriguez (Our Voices Festival of New Plays), Ron "QWNTYM" Ford (Jit the Funk Up and Dance!), Carrie Morris (The Firefighters), Marsha Music (The Detroitist), Natasha Miller (Raising Carlito), Julia Yezbick (marratein, marratein), Shaun Nethercott (Neighborhood on the Edge), Bob Sestok (Cass Corridor Art & Beyond, 1967-2020), Sacramento Knoxx (Spirit Plate), The TETRA (Freedom School), and Michael A. Williams and W. Kim Heron of The Kresge Foundation. Lauren Rossi, Dominique Campbell and Cézanne Charles of rootoftwo will also participate in episodes.
The Living X Podcast is edited and mixed by Wayne Ramocan of Red Carpet Lounge, and features music by Kresge Artist Fellow Pamela Wise.
All episodes will be available for on Simplecast, Apple, Google, and Spotify after the event.