Atlanta Volunteer Lawyers Foundation stands with tenants to create safe and stable homes
The sound of dozens of young children's voices filled the brightly colored hallways at the start of a new school year at Thomasville Heights Elementary School in Atlanta, Georgia.
A short walk away from the elementary school is Forest Cove Apartments. Boarded up windows, broken glass, leaky roofs, holes in the floors, mold, mildew and broken air conditioning are just some of the deplorable conditions tenants in the 396-unit complex have had to endure for years.   
Ninety percent of the more than 500 students attending Thomasville Heights live there.
But residents don't want to leave. They just want a healthy, affordable place to live and raise their families.
That's where Atlanta Volunteer Lawyers Foundation comes in.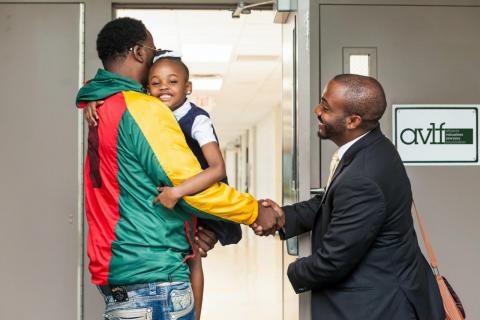 One of 13 organizations The Kresge Foundation funded in 2018 to advance health equity through housing, the Atlanta Volunteer Lawyers Foundation's Stand With Our Neighbors™ program embeds full-time attorneys and advocates in schools and neighborhoods with the highest eviction and pediatric asthma rates and works with families to improve living conditions, housing stability and health.
AVLF, in collaboration with Atlanta Public Schools, PurposeBuilt Schools and the Kindezi Schools, launched the program in 2016 after evaluating which areas of Atlanta had the highest number of renters, pediatric asthma rates, school enrollment turnover and poverty.
Over time, this partnership has grown to include organizations such as Care Source and WellCare health plans, Kaiser Permanente, Home Depot, Intown Pediatrics, Atlanta Regional Collaborative for Health Improvement, Good Samaritan Health Center, and Air Allergen Mold Testing, along with 10 of Atlanta's top law firms.
When AVLF began piloting the Stand with Our Neighbors program at Thomasville Heights, school administrators were facing several challenges – nearly half of students transitioned in and out of the school each year. Suspensions were high, and academic performance was low.
"Teaching and learning are only one part of the equation," said Thomasville Heights Principal Jovan Miles. "It is impossible to improve academic outcomes for kids if they have housing instability and are moving in and out of communities."
So instead of a typical legal services model, a team of lawyers and social workers work directly with students' families to prevent housing issues and respond to and resolve problems when they do arise.  

"Outreach is also a vital part of Standing with Our Neighbors," said AVLF Deputy Director Michael Lucas.  
For example, a new law that prohibits landlords from retaliating against tenants took effect on July 1, 2019. However, many in the community don't know this law took effect.
"If you don't know your rights, you don't know they are being violated," said Andrea Arroyo, director of community engagement at PurposeBuilt Schools, the organization that partners with Atlanta Public Schools at Thomasville Heights Elementary School.  
To help families learn about their rights as tenants, AVLF hosts "Turn Up & Turn Out" events once a month at the school. At these events, AVLF also brings in partner organizations to present information about other topics such as health and wellness. While parents learn, AVLF staff and volunteers entertain their kids, and then provide lunch for the whole family.
In just one year, AVLF educated 451 residents in the Thomasville Heights neighborhood about their rights as tenants. The team prevented 80 families from being displaced, and there was a 36 percent reduction in student turnover.

Academic performance is improving too.

"We still have a long way to go, but in every area, we are getting better," Miles said.
"Embedding people in the community makes a difference," Arroyo said. "We have the flexibility to meet families where they are and move them forward."  
At Forest Cove Apartments, with new owners set to invest $30 million in improvements to the complex, AVLF is now focused on making sure residents aren't unnecessarily or inappropriately displaced.
Tenants are also interested in starting an association to advocate for their rights and resolve issues. 
In 2017, Standing with Our Neighbors expanded to eight additional schools in Atlanta - Thomasville Heights Elementary School, Slater Elementary School, Price Middle School, Carver STEAM Academy, Barack and Michelle Obama Academy, Dunbar Elementary School, Gideons Elementary School, Hollis Innovation Academy. In all locations, AVLF staff attorneys and community advocates are embedded in the community and work with partner law firms to help stabilize housing and reduce school enrollment turnover. 
"By managing students' housing needs, we are able to stabilize a family. And when you stabilize a family, you stabilize a school. When you stabilize a school, you help stabilize an entire community," Lucas said. "Students, schools and communities are able to thrive."