Assets hiding in plain sight: CREWS participants build muscle to influence equitable water decision-making in their communities
For advocates at the second convening of the Kresge Environment Program's Climate Resilient and Equitable Water Systems (CREWS) initiative, Atlanta's Flint River might well be a metaphor for their work in communities across the U.S. The once-natural river is channeled into concrete tubes below the runways of the Hartsfield-Jackson International Airport, the world's busiest.
It's been invisible and unloved, said Ben Emanuel from American Rivers, "an asset hiding in plain sight." American Rivers is among a host of partners working with the airport, local communities and water advocates to restore parts of the river to a more natural state. The benefits are significant: a more effective buffer against flooding during heavy rains; a cleaner source water for hundreds of thousands who rely on the Flint for drinking water; and an aesthetic and ecological showpiece for communities – particularly low-income communities – that border the waterway.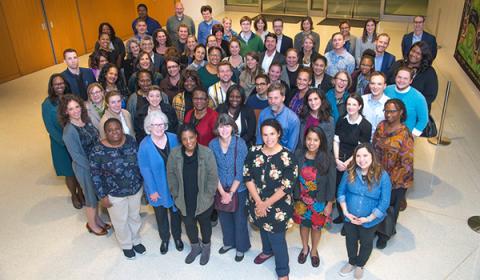 It's one example of the type of work underway through the CREWS initiative. CREWS aims to equip organizations across the nation to tackle policies and projects that improve stormwater and wastewater systems with a focus on providing equitable solutions to populations historically shortchanged – particularly low-income neighborhoods and communities of color.
The Flint River field trip was among the activities during the convening of CREWS participants October 23-25 in Atlanta. More than 80 people shared triumphs, strategies, frustrations and anecdotes from their work to engage overlooked communities in solutions to local stormwater and wastewater issues. Assets, if you will, hiding in plain sight.
"Water is a gateway to talk about and tackle intertwined issues of equity, fairness and climate change impacts – how solutions often don't include low-income populations and communities of color," said Dr. Jalonne L.  White-Newsome, senior program officer and CREWS coordinator with Kresge's Environment Program. "Solutions and strategies to ensure robust and equitable water system decisions look different in each community, but some threads are common to all – climate change impacts are increasing the urgency to act; communities typically hit 'first and worst' by flooding and other impacts must be integral parts of the decision-making processes; and real, authentic, and uncomfortable discussions must take place to ensure that happens."
Pushing into often-opaque decision-making processes in local and regional governments can be uncomfortable, but is critical to building equity into decisions on water infrastructure and management decisions, said Dwyane Patterson of the Partnership for Southern Equity, who gave the keynote address to the group. "Everyone in, no-one out," said Patterson, who said that busting through the silos of the status quo requires "Courage …. In your space, in your community … and in your statehouse" when demanding inclusive solutions from policymakers.
Sessions and activities at the convening also included:
A panel discussion on climate science and its intersection with social issues.
A learning session on using metrics to build your case, because "if you don't measure it, it doesn't count."
Representatives from Atlanta-based organizations talking about local work on issues at the intersection of climate change, water and historical inequities.
A breakfast conversation focused on finance in climate resilience and equitable water work.
An energetic presentation on strengthening the role of strategic storytelling in organizations' communications work by John Trybus of the Center for Social Impact Communications at Georgetown University.
Hands-on service projects at sites in Atlanta neighborhoods, including a community garden, trail maintenance, and tree planting at an urban forest and nature preserve.
Dinner and exhibits at the National Center for Civil and Human Rights.
To learn more about the CREWS initiative, read this report prepared earlier this years by Meridian Institute for Kresge grantee American Rivers.