Art X Detroit showcases Kresge Eminent Artists and Artist Fellows
Art X Detroit: Kresge Arts Experience is back, drawing eager crowds into Midtown Detroit through Sunday, April 14.
The free, five-day event celebrates arts and culture in Detroit and the creativity and craft of Kresge's Eminent Artists and Artist Fellows working in the visual, performing and literary arts.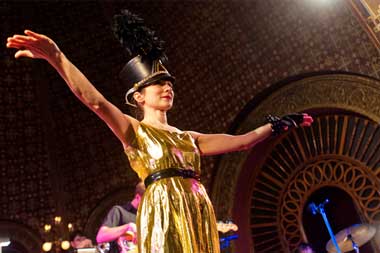 This time around, the biennial event will feature Eminent Artists Naomi Long Madgett and Bill Harris along with Artist Fellows including actress-comedienne-writer Maria Costa, the duo Passalacqua, the arts and design team Design 99, muralist Hubert Massey, musician-composer Shara Worden and music writer Mark Stryker.
A schedule of events is available at the Art X Detroit website.
In 2011, the inaugural year, Art X Detroit brought thousands of people to events and exhibitions at the Museum of Contemporary Arts Detroit, the Detroit Institute of Arts, the Charles H. Wright Museum of African American History and other Midtown venues.
The Eminent Artist and Artist Fellowship programs are part of Kresge's Detroit Program. The Detroit Program uses a comprehensive framework to invest in efforts to foster long-term economic opportunity that advances social equity, promotes cultural expression, and re-establishes Kresge's hometown as the center of a vibrant region.
The foundation has provided $2 million to support more than 70 artists living and working in metropolitan Detroit since 2008.
"A thriving arts and cultural community not only enriches the quality of life for residents and visitors to southeastern Michigan, but inspires fresh ideas and fuels the creative vitality of the region," says Rip Rapson, Kresge's president and CEO.
"In attracting local, national and international audiences to experience the works of these artists, Art X Detroit celebrates the Detroit metropolitan area as a hub of innovation and human energy," Rapson says. "We're proud to support the event and celebrate the Kresge Eminent Artists and Artist Fellows."
The Eminent Artist and Artist Fellowship programs are administered by the College for Creative Studies. Art X Detroit is produced by Midtown Detroit, Inc., a nonprofit organization promoting reinvestment in area through the arts, beautification and economic development.
A special visual arts exhibition runs through April 28 at MOCAD, Museum of Contemporary Arts Detroit.