Amy Robinson assumes Chief Administrative role in addition to Vice President and CFO responsibilities
Kresge Vice President and Chief Financial Officer, Amy B. Robinson, has assumed oversight of the organization's grant operations and data information management operations, thereby taking on an additional role as Chief Administrative Officer. In addition, she serves as secretary and treasurer for the foundation's board of trustees.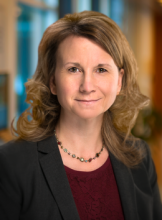 In her expanded role, Robinson will oversee the foundation's Program Operations and Information Management team, which actively manages Kresge's grantmaking process and analyzes data to facilitate informed decision-making and legal compliance.
She also directs the foundation's finance, technology and facilities departments, and serves as a key member of the foundation's executive team.
Robinson, a certified public account, joined Kresge in 1995 and held various accounting and financial management roles prior to being named CFO in 2009.