Addition to headquarters accommodates Kresge's growing programs, staff
New space includes an array of energy-saving features.
Kresge Foundation staff, trustees and guests celebrated the opening of a 16,000-square-foot addition to the foundation's headquarters in Troy, Mich., during a ribbon-cutting ceremony Sept. 16, 2015.
The space provides room to accommodate growth of Kresge's mission, programs and staff. It adds to the existing 27,850-square-foot complex, where a 19th-century farmhouse and barn anchor a headquarters that features geothermal heating and cooling, three acres of native prairie landscaping and an array of energy-saving and sustainable features, including rainwater harvesting and pervious parking lot pavement that filters stormwater.
The addition "represents growth and progress – and promise – in our never-ending quest to fulfill Sebastian Kresge's mandate to 'promote human progress,'" said Kresge Board of Trustees Chairwoman Elaine D. Rosen during the ceremony.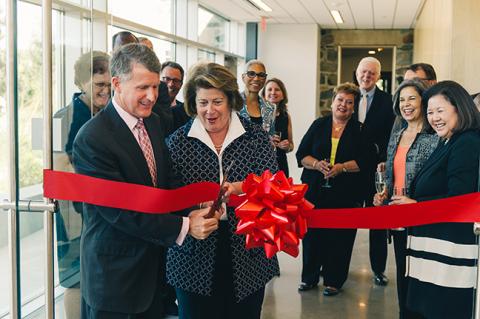 A public dedication will take place in early 2016.
During the past decade, Kresge has launched new programs and initiatives to advance its mission of expanding opportunity for underserved and low-income people in America's cities. The agenda is a result of a focus on strategic grantmaking that began in 2008, requiring more staff and resources to guide grantmaking and social investing in order to ensure robust outcomes for people and communities.
The workplace environment is designed to promote health and productivity, and to showcase the foundation's commitment to collaboration, sustainability and healthy workplaces.
Enhancing partnership and collaboration
A multimedia-equipped convening space in the addition allows Kresge to host a growing community of partners who energize and guide our initiatives. The space seats 120 people, and has vaulted ceilings and a partition that descends to create separate rooms.
Advancing environmental sustainability
The expansion employs sustainable systems and amenities that complement the existing LEED platinum-certified campus. Features of the new construction include a foundation partially embedded in the earth for natural insulation, an array of energy-efficient mechanical equipment, water-conserving fixtures and living green walls. Solar panels will be installed in the coming months to reduce the building's reliance on the power grid.
Promoting a healthy workplace
A cafeteria provides healthy dining options for Kresge staff and guests. Employee work stations are equipped with sit-to-stand desks, and a quarter-mile walking path through the prairie landscape encircles the headquarters. Views overlook wetlands and wildlife, includeing great blue herons, hummingbirds, a red fox and a family of Canada geese that return to the site every spring to nest.
Additional features of the expansion include:
Kresge's 5&10¢, a coffee nook named in tribute to the original five-and-ten-cent store chain started by Sebastian Kresge in 1912.
Low-flow plumbing fixtures.
Low- and zero-VOC building materials and furnishings.
High-efficiency glass to minimize heating and cooling expenses.
A highly reflective roof to minimize heat gain in the summer.
Native plantings adapted to Michigan's climate that require no supplemental water or fertilizer.
Gabion retaining walls made from 30 tons of Michigan blue chip granite.
Granite façades quarried in Quebec.
Locally sourced construction materials, including metal panel claddings.
Design and construction
Architect Valerio Dewalt Train Associates (Chicago), in partnership with construction manager L.S. Brinker Co. (Detroit) and project manager Jones Lang LaSalle (Detroit office), led the architectural design and construction of the 2015 expansion project.
Read Rosen's remarks from the dedication ceremony.