Aaron Seybert named as new Social Investment Practice Managing Director
Seybert to replace Kimberlee Cornett, effective Oct. 1
Aaron Seybert has been named managing director of The Kresge Foundation's Social Investment Practice effective October 1. The announcement was made by Kresge President and CEO, Rip Rapson.
Seybert, 38, joined Kresge in 2016 as a social investment officer. In his new role, he will work closely with the foundation's seven program teams to identify opportunities to make non-grant capital and financing available to organizations aligned with the foundation's strategic priorities working nationally and in Detroit.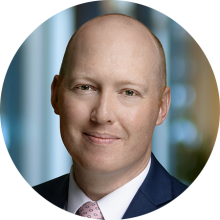 "Aaron's creativity, deep concern for equitable development and mission-centric drive have resulted in transformative moves by the foundation in recent years," Rapson said. "He has consistently demonstrated his deep expertise and penchant to move capital into underserved communities by identifying capital gaps, then structuring loans, guarantees and alternative financing tools to meet specific needs of communities and projects."
During his tenure at Kresge, Seybert has led the foundation's work to raise awareness on the potential opportunities and risks of Opportunity Zones, a private tax incentive created by Congress through the Tax Cuts and Jobs Act of 2017.  Specifically, Seybert helped design a set of Kresge guarantees offering $22 million in loss protection to two firms that agreed to reasonable financial and social covenants that ensure transparency and prioritization of community interests.
Seybert also helped Marygrove College untangle burdensome financial restrictions and restructure debt obligations . Those actions ultimately paved the path for the historic institution in northwestern Detroit to reinvent itself and its 53-acre campus as a neighborhood development project rooted in education. 
"I'm honored to serve the foundation and my Social Investment colleagues in this new capacity," Seybert said. "Given the groundswell of activity in the impact investing space, it is easy to forget that these tools are relatively new to much of the philanthropic sector. Kresge's leadership through the past decade has successfully demonstrated how these tools can fill gaps in community financing that would otherwise go unmet and accelerate the flow of private capital into causes that we care about. It is my honor to continue that charge and demonstrate the potential of impact investing in our sector and beyond."
Seybert previously was an executive director at JPMorgan Chase Bank, in the community development banking group focusing on New Markets Tax Credits and Historic Tax Credit investing. He started his career in impact investing at Cinnaire (formerly the Great Lakes Capital Fund) addressing affordable housing, and previously worked with Legal Aid of Central Michigan. He has served on the board of directors for the Michigan Magnet Fund, Lake Trust Credit Union and the Core Cities Strategic Fund advisory board.
A native of Michigan, Seybert earned a bachelor's degree in corporate finance and accounting from Central Michigan University in Mt. Pleasant, Mich., and a juris doctorate from Michigan State University College of Law.
Seybert replaces Kimberlee Cornett, who is departing the foundation this fall to pursue a new professional opportunity.
"I'm thrilled to be able to pass the baton to Aaron, who's been a tremendous colleague here at Kresge," said Cornett, who joined the foundation in 2010 and built the Social Investment team. "He is a mission-driven leader who gets up each day excited about the challenge of bending markets to better work for low-income communities."