23 new Detroit Revitalization Fellows to build capacity of metro organizations; new Kresge Mayor's Fellows initiative is announced
Urban-minded professionals to tackle Detroit issues by joining range of public and nonprofit groups; new posts will foster innovations at mayor's office.
Nearly two dozen civic, community and economic development organizations across metro Detroit will expand their capacity to address critical local and regional issues, as they welcome the 2015-17 Detroit Revitalization Fellows. 
The 23 fellows from Detroit, across Michigan and around the United States – chosen from more than 650 applicants – will serve two-year appointments at a range of public and nonprofit organizations focused on the revitalization of Detroit and the region. This is the third cohort of the innovative program, which began in 2011 and is a partnership between Wayne State University and a number of local and national foundations.
The 2015-2017 fellows, listed below, will lead projects in the fields of open data and technology; transit and mobility; homelessness assistance; neighborhood commercial and riverfront development; community engagement and youth development. The Fellows begin their tenure with a three-week immersion that includes introductions to a range of community organizations, dialogues with urban experts and neighborhood leaders and the launch of intensive leadership development.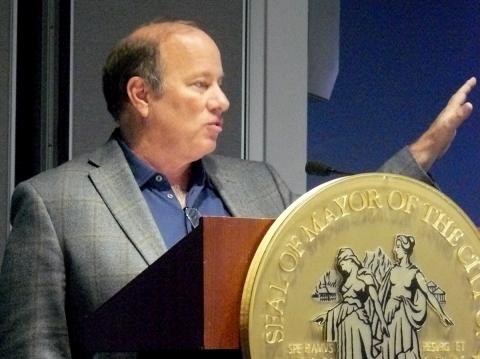 The Detroit Revitalization Fellows Program also today announced the Kresge Mayor's Fellows initiative. Through this partnership with The Kresge Foundation and Mayor Mike Duggan's office, three Detroit Revitalization Fellows alumni will serve two-year assignments, taking on cross-departmental challenges and opportunities in the mayor's office to advance the quality of life for and with Detroiters while building capacity for the administration. 
The Kresge Foundation works to expand opportunity for low-income people in America's cities. The Kresge Mayor's Fellows initiative is funded by the foundation's Detroit Program, which uses a comprehensive strategy to promote long-term economic opportunity in the foundation's hometown.
The 2015-17 Kresge Mayor's Fellows and their assignments are:
Diana Flora (2013-15 Fellow at Data Driven Detroit): Director of Strategy Development, Detroit Police Department. 
Jeanet Kulcsar (2011-13 Fellow at Invest Detroit): Director of Resident Opportunity Initiatives, Jobs and Economy Team.
Jerrell Harris (2013-15 Fellow at Focus: HOPE): Director of Restructuring & Transformation, Mayor's Office.
The 2015-17 Detroit Revitalization Fellows and the Kresge Mayor's Fellows initiative were introduced at a reception at TechTown Detroit today by Detroit Mayor Mike Duggan, Kresge Foundation President and CEO Rip Rapson, Wayne State University President M. Roy Wilson and Detroit Revitalization Fellows Director Graig Donnelly.
"Detroit Revitalization Fellows serves as a national model for inclusive, partnership-driven urban innovation delivered by a network of collaborative leaders," Donnelly said. "Over the last four years, our Fellows have played integral roles in key projects driving progress in Detroit, from fighting blight through Motor City Mapping, to fostering pop-up retail through Revolve Detroit, to literally bringing some Detroiters out of darkness at the Public Lighting Authority. We look forward to extending our network with our newest cohort of Fellows, and to helping drive collaboration and innovation across city departments through the Kresge Mayor's Fellows initiative." 
"The Detroit Revitalization Fellows program speaks to the gravitational pull Detroit has for today's young leaders and the pride of Wayne State University and its partners to make change here,"  Rapson said. "With the Kresge Mayor's Fellows initiative, we can further enhance our civic capacity and leverage what the Revitalization Fellows have learned about the city, its challenges and its possibilities." 
Duggan thanked Wayne State, Kresge and all the funders who have supported the program since its launch in 2011.
"From Motor City Mapping to the establishment of the new Public Lighting Authority and programs like Revolve Detroit, Detroit Revitalization Fellows has been making a real impact on Detroit," the mayor said. "It shows how top talent from our city, the region and around the nation want to play an active role in our city's comeback. We look forward to our Fellows working in partnership with city staff to build capacity, foster collaboration, improve city services and continue to move Detroit forward."
The 2015 Detroit Revitalization Fellows and their assignments are: Aja Bonner, program associate, Hudson-Webber Foundation; Kalisha Davis, director of community outreach and engagement, Detroit Historical Society; Susan Dundon, business innovation director – Youth Energy Squad, EcoWorks; Aaron Goodman, community engagement manager, Community Development Advocates of Detroit; Samira Guyot, manager of legal education, Michigan Community Resources; Terryn Hall, manager of strategic partnerships, Teen HYPE; Ritchie Harrison, community development planner, Detroit Riverfront Conservancy; Joel Howrani Heeres, director, Open Data & Analysis, city of Detroit Department of Innovation and Technology; Melvin Henley, project manager, Council of Creative Industries, Detroit, Detroit Creative Corridor Center; Debra Houghtaling, urban planner, Henry Ford Health System; Ouida Jones, owner's representative – Vernor Crossing Development, Southwest Detroit Business Association; Jeffrey Nolish, transportation program manager, MetroMatters; Martha Potere, economic development program manager, Grandmont Rosedale Development Corp.; Aneetha Ramadas, social impact researcher, Data Driven Detroit; Brittany Sanders, community engagement manager, Belle Isle Conservancy; Charla Sanders, employment district program manager, Detroit Economic Growth Corp.; Delphia Simmons, director, Passport to Self-Sufficiency, Coalition on Temporary Shelter; Michael Smith, director of neighborhood strategies, Invest Detroit; Jeri Stroupe, senior project administrator, Office of Economic Development, Wayne State; Leslie Tom, chief sustainability officer, Charles H. Wright Museum of African American History; Patricia White, development director, Eight Mile Business Improvement District, Eight Mile Boulevard Association; Shari Williams, neighborhoods and operations program manager, Detroit Future City; and Gracieuse Xavier, director of corporate and economic development strategy, Global Detroit.
Detroit Revitalization Fellows was inspired by the Rockefeller Foundation's CUREx Fellowships, started in New Orleans after Hurricane Katrina to attract urbanists from across the country to help rebuild the city. Fifty-one Fellows from across the United States, including native Detroiters and Michiganders, have participated in two successive cohorts since the program began; the 23 Fellows in the third cohort began their service this month.
Detroit Revitalization Fellows, a program of Wayne State University's Office of Economic Development, has been supported by Kresge; the Ford, Hudson-Webber, John S. and James L. Knight, Skillman, DTE Energy, Max M. & Marjorie S. Fisher and PwC Charitable foundations and Wayne State.