2014 Eminent Artist Bill Rauhauser celebrated in monograph
Publication surveys life and work of photographer who chronicled streets of Detroit.
Kresge President Rip Rapson on Thursday presented the foundation's 2014 Eminent Artist with a commemorative monograph celebrating his life and work.
Bill Rauhauser, an iconic Detroit photographer and educator, received the monograph at the Virgil Carr Center, in downtown Detroit, during the opening of a two-week show of his works.
The monograph celebrates contributions of Rauhauser, who devoted decades to capturing what he describes as a society in constant motion. Although he is best known in the Detroit area – the site of most of his street photography – he achieved national attention in 1955 as part of the famous "Family of Man" exhibition at the Museum of Modern Art. His work also included in the recent "Another Look at Detroit: Parts 1 and 2" exhibition at Marianne Boesky Gallery and Marlborough Chelsea in New York.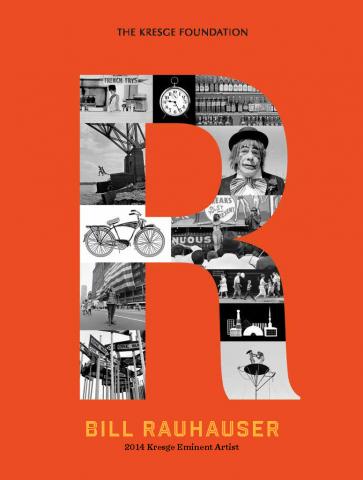 The 94-page monograph recounts Rauhauser's work as a photographer and includes scores of his pictures, including a number of genres in addition to the street photography for which he is best known. The monograph also covers his role as an educator, notably his 30 years teaching in the photography department at the College for Creative Studies. A number of his now successful and prominent students –  including Michelle Andonian, Peggy Day and Dave Jordano – offer testimonials to his influence in the book.
Rauhauser also played prominent role in the building of the photography collection of the Detroit Institute of Arts, and is a collector and curator of note.  A selection of his writings on the craft, history and philosophy of photography is included in the book.
Like monographs celebrating previous Kresge Eminent Artists, the publication will be provided to the Library of Congress, the Library of Michigan and other institutions and organizations associated with the respective artists.
Hard copies of the monographs are free and available by contacting the foundation.
Download the monograph (PDF)
Read the announcement of Rauhauser's selection
Learn about other Kresge Eminent Artists: