20 new leadership teams selected for Kresge's Emerging Leaders in Public Health initiative
Foundation reaches goal of training 100 local public health leaders
The Kresge Foundation announced today the 40 public health leaders who will work to transform the role of local public health departments in their communities as part of the third cohort of The Kresge Foundation's Emerging Leaders in Public Health initiative, totaling the number of trained leaders to 100.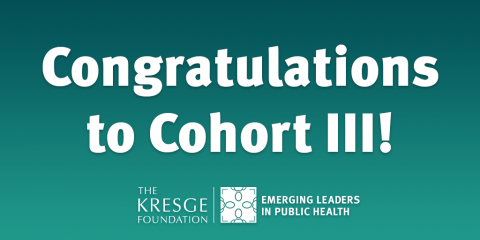 Kresge's Emerging Leaders in Public Health was designed to provide public health leaders of county and local health departments opportunities to build additional knowledge and skills to tackle the challenges they face in their communities. This initiative is part of the foundation's Health Program's strategy to accelerate community-centered approaches that promote health of communities. 
During the program, the leaders will participate in an action-oriented program focused on the design and implementation of a transformative concept that shifts or expands the capacity of their local department. Each team will receive a resource grant up to $125,000 as well as coaching and technical assistance to evolve their ideas into action.  
"We were overwhelmingly impressed by all of the applications for the third cohort of Emerging Leaders in Public Health. Collectively, these leaders are dedicated and passionate as well as have the abilities to truly transform the role of public health in their communities."  
−Dr. Phyllis Meadows, senior fellow to The Kresge Foundation's Health Program and the Emerging Leaders in Public Health lead
The initiative is designed to develop teams of local public health leaders, including the health director and an emerging future leader from a public health agency. Each team will be asked to challenge and support each other while building skills and competencies together, applying their knowledge to transform how each organization functions in its community. 
​Cohort III Emerging Leaders in Public Health Participants
The leaders participating in the third cohort are:
Nicki Britten and Courtney Davis, Berrien County Health Department 

Nafissa Cisse-Egbuonye and Eileen Daley, Black Hawk County Health Department   

Julie Pryde and Awais Vaid, Champaign-Urbana Public Health District  

Layton Long and Michael Zelek, Chatham County Public Health Department 

Katherine Wells and Madeline Geeslin, City of Lubbock – City of Lubbock Health Department 

Bobbie D. Bagley and Heidi Peek-Kukulka, City of Nashua Division of Public Health and Community Services 

Merle Gordon and Brian Kimball, Cleveland Department of Public Health  

Wilma Wooten and Sayone Thihalolipavan, County of San Diego HHS Agency, Public Health Services 

Joneigh Khaldun and Valentina Djelaj, Detroit Health Department  

Paul Pettit and Brenden Bedard, Genesee and Orleans County Health Departments  

Bridgette Casey and Ray Dlugolecki, Jackson County Health Department 

Stacey Flanagan and Linda Ivory-Green, Jersey City Department of Health and Human Services 

Kim Gonzales and Jennifer Sanchez McDonald, Las Animas – Huerfano Counties District Health Department 

Patricia Sweeney and Michelle Edison, Mahoning County District Board Health  

Anne Barry and Kathy Hedin, Saint Paul – Ramsey County Public Health 

Gary Edwards and Dorothy Adams, Salt Lake County Health Department  

Jeff Ketchel and Nicole Thomsen, Snohomish Health District  

Denise Bonds and Rebecca Schmidt, Thomas Jefferson Health District  

Frank Kruppa and Samantha Hillson, Tompkins County Health Department 

Andre Fresco and Lillian Bravo, Yakima Health District   
Collectively, the 20 health departments represented by these cohort leaders serve nearly 10 million community members in cities across the country.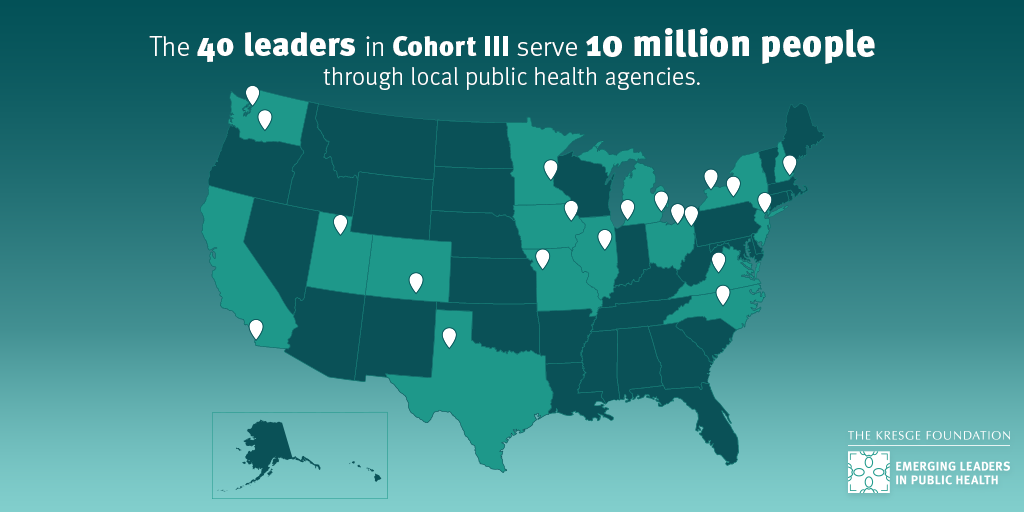 The 40 leaders selected for this newest cohort join a growing community of public health leaders support by The Kresge Foundation. In 2015, Kresge selected 24 public health leaders to participate in the inaugural cohort of the initiative and in 2017 Kresge selected 40 public health leaders to participate in Cohort II. With the addition of Cohort III, Kresge is meeting its goal of providing leadership development and resources to those who directly serve their communities.
"At Kresge, we recognize the complexity of the health system, and that all the disciplines within our nation's public health system have the potential to play important roles in fostering community health. Public health agencies are an especially vital partner in creating healthier people and communities, and we look forward to fostering the skills and ideas of the sector's next generation of leaders."
− David Fukuzawa, managing director of The Kresge Foundation's Health Program
The leaders will be supported by The University of North Carolina Gillings School of Public Health (UNC), which serves as the National Program Office for the initiative.