Our Workspaces
Our headquarters and Detroit office promote health and productivity while showcasing our commitment to collaboration and environmental sustainability.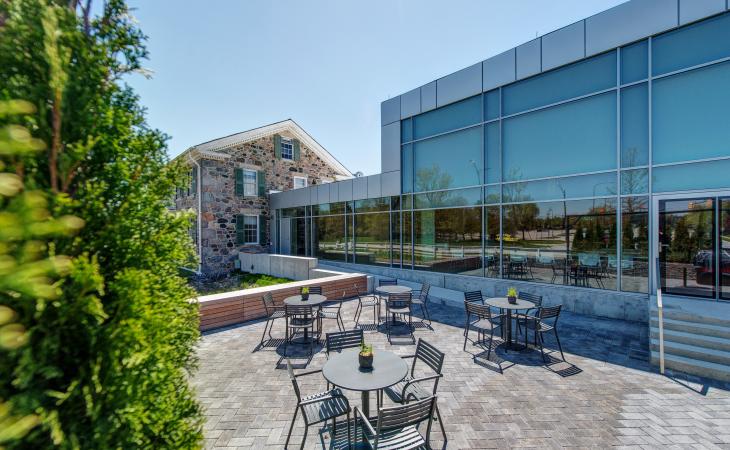 Elaine Rosen, chairwoman of the Kresge Board of Trustees, speaking in September 2015 at the dedication of new meeting and office space at foundation headquarters in Troy, Mich.
Overview
The Kresge Foundation is based in metropolitan Detroit at the former site of the historic 19th-century Brooks Farm in Troy, Mich. Our headquarters consist of an original 1852 farmhouse and barn juxtaposed with a modern aluminum and glass office building. We promote environmental responsibility through our philanthropic activity; our headquarters facility and campus reflects our dedication to reducing the environmental impact of our own operations.
Our 43,850-square-feet office building was built in two phases. Phase 1 was completed in 2006 and was awarded a Platinum designation in the Leadership in Energy and Environmental Design (LEED) Rating System by the U.S. Green Building Council. An expansion was completed in 2015 to provide the following features:
Enhancing partnership and collaboration
A convening center that seats 120 allows Kresge to host and convene a growing community of partners who energize and guide our initiatives.
Advancing environmental sustainability
The expansion employs sustainable systems and amenities that complement our LEED Platinum campus. Features of the recent construction include a foundation partially embedded in the earth for natural insulation, an array of energy-efficient mechanical equipment, water-conserving fixtures and living green walls. Solar panels have been installed to ease the building's reliance on the power grid.
Promoting a healthy workplace
A cafeteria provides healthy dining options for Kresge staff and guests. Employee work stations are equipped with sit-to-stand desks and a quarter-mile walking path through the campus' prairie landscape encircles the facility. Views overlook wetlands and wildlife which include great blue herons, hummingbirds, a red fox and a family of Canada geese that return to the site every spring to nest.
Art in the Office
Kresge's 12-member Art in the Office Committee curated more than 130 art works by Detroit area artists to display throughout our Troy headquarters and Detroit office. Most pieces currently displayed are on loan through 2019. The exhibits serve as an extension of the foundation's commitment to the robust local arts community and are intended to expose staff and visitors to a range of modern artistic works created in Southeast Michigan.
Examples of Art in the Office
"Dream 20" by Robert Beras

"Catwalk" by John Bunkley

"Parking Structure, Greektown Casino-Hotel" by Brian Day

"Beaubien Glitch" by Ryan Herberholz

"Red Roundabout" by Jay Lefkowitz

Rev. C.L.Franklin and Aretha Franklin, from "Detroit Portrait Series: Black Bottom and Paradise Alley" by Nicole MacDonald

"Totem(s)" by David Mikesell

"Crayola" by Ellen Phelan

"Blue Bird's Dreams" by by Luzhen Qiu

"Flock" by Nicole Richards

"The Golden Bough" by Meagan Shein and Siobhan Arnold
Site and Landscape
Our 3-acre campus sits on restored Michigan indigenous prairie grassland and feature more than 50 native species of grasses and wildflowers, as well as a butterfly garden.
The grounds also feature a constructed wetland with two ponds and a cistern that can store up to 18,000 gallons of rainwater. This cistern ensures that the ponds have enough water throughout the year and provides irrigation for the vegetated green roofs during dry periods.
Our campus was designed to reduce the volume of stormwater that runs off the site. The native plants and constructed wetland work with the vegetated roof areas and bioswales, or shallow channels planted with vegetation, to retain rainwater. Our parking lot and walkways are covered with pervious pavers resting on layers of crushed rock, which allows rainwater to filter into the ground instead of being channeled to the city's sewage treatment facility.
Living walls improve indoor air quality, contributing to a healthier workplace.

Photo: Ryan Southen

A design maximizing natural sunlight reduces electricity use and enhances the workplace.

Photo: Ryan Southen

Views overlook wetlands, native plants, birds and other critters that frequent Kresge's campus.

Photo: Ryan Southen

Canada geese return annually to raise young in the shadow of Kresge's offices.

Photo: Ryan Southen

Rock gabion walls utilize nature's building materials.

Photo: Ryan Southen
Our Detroit satellite office
In 2012, we opened a 2,500-square-foot office in Midtown Detroit. The office provides a convenient space for meeting with local grantees and other partners.
The office is located on the second floor of a historic building in the Woodward Garden Block at the intersection Woodward Avenue and Alexandrine Street. The office space was designed by DMet Design. The leased space is owned by George Stewart, a local developer whose years-long effort to rejuvenate the historic Woodward Garden Block has now come to fruition.
Detroit craftspeople created amenities such as desks and a conference table made from wood reclaimed from other buildings in and around the city. Work by metropolitan Detroit artists hangs on the walls.
"We believe the opening of our Detroit office reinforces the deep and long-standing commitment that Kresge has had to the City of Detroit," says Rip Rapson, Kresge's president and CEO. "It also offers an opportunity to participate in the growing energy all up and down Woodward Avenue and to witness first-hand the excitement and energy that has emerged as more and more people vote with their feet and choose to be a part of the city's revitalization."