Emerging Leaders in Public Health
The Emerging Leaders in Public Health initiative equips local public health officers with knowledge and skills to transform the role of public health in their communities.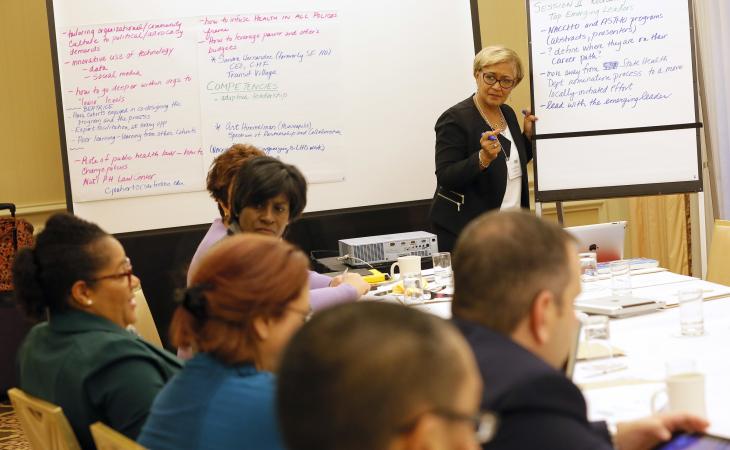 The Emerging Leaders in Public Health is an ongoing leadership development initiative launched in 2014 as a way to equip local public health officers with knowledge and skills to lead in today's changing health care environment. Pairs of public health leaders embark on the 18-month, action-oriented experience to undertake projects designed to enhance organizational and leadership competencies in business, planning and public health systems development.
Two Leaders, One Concept

Emerging Leaders in Public Health is designed to develop local public health leaders in pairs. This team of leaders challenge and support each other and build skills and competencies together. Each team is composed of a health officer, the top leader in the organization, collaborating with an emerging leader from the same organization. 
In addition to receiving leadership coaching and development, each team receives a grant up to $125,000 to develop and implement a transformative concept designed to deliver a new model of public health for their respective communities.
In 2015, Kresge's Health Program selected 24 leaders to participate in the inaugural cohort, and in 2017 the Health team selected 40 to participate in Cohort II.  Emerging Leaders in Public Health announced the selection of 40 local leaders to participate in a third cohort in 2018.    
Questions?
For more information about the Emerging Leaders in Public Health initiative, please contact ELPH@kresge.org.   
First Cohort Participants 2014 - 2016
The Hennepin County Public Health department works with the local medical center and health system to form the largest safety-net provider in Minneapolis. As part of their participation in Emerging Leaders in Public Health, Director of Public Health Susan Palchick-Silver and Manager of Public Health Integrated Care Stephanie Abel developed a project to organize an integrated model of behavioral and public health services. The team also worked to build the department's capacity as an evaluation and program development resource for the county.

The Montgomery County Health Department seeks to identify and respond to the public health needs of the community, and provides a variety of basic health services for residents. As part of Kresge's Emerging Leaders in Public Health initiative, Joey Smith, public health director, and Jennifer Hamilton, health educator, built a tracking system to assess the value of current health interventions and their impact on health outcomes.

The Calvert County Health Department provides local public health services that promote and protect the health of all Calvert County residents. Laurence Polsky and Kirsten Forseth used their grant funds to complete a pilot project to test the feasibility of establishing the health department as the principal safety-net provider for adolescent behavioral health services in the school system.

The Polk County Iowa Health Department works to foster healthy lives and well-being in Polk County by engaging residents, reducing health disparities and attending to the needs of the most vulnerable families. Polk County Health Department Director Rick Kozin and Public Health Planner Juan C. Cadenillas, the health department is building out new tools, policies and procedures to advance and align its strategic objectives for creating healthy communities throughout the county.

The Florida Department of Health in Seminole County delivers services to county residents that protect the community from diseases, promote healthy behaviors and improve the quality of life. Faced with changing population demographics and health needs, Swannie Jett and Donna Walsh, assistant health officer, are working to reorganize the department and establish a community/neighborhood-based model of public health practice.

The Los Angeles County Department of Public Health utilizes a network of public-health professionals to deliver services that protect population health, prevent disease and promote the health and well-being of all Los Angeles County residents. With the grant from Kresge's Emerging Leaders in Public Health initiative, Cynthia Harding, interim public health director, and Jeffrey Gunzenhauser, medical director, developed a comprehensive, unified health-improvement strategy for the county and to position the department as a broker of resources to achieve more targeted, effective health investments.

The San Francisco Department of Public Health delivers a wide range of health services to a diverse population through two divisions, the Community Health Network and Population Health and Prevention. Barbara A. Garcia, director of health, and Tomas Aragon, director of population health, utlized their Emerging Leaders in Public Health grant to develop and test a new REACH training framework designed to improve organizational and partner capabilities to address health disparities.

The Portsmouth Health Department is dedicated to promoting, protecting and preserving a healthy, safe community. David S. Chang and Triona Gateley developed a data-driven model of assessment, planning and service delivery as part of their participation in the Emerging Leaders in Public Health initiative.

The city of New Orleans is working to transform its health department into a 21st-century model agency capable of improving population health through data-driven decision making and policy development. Charlotte M. Parent and Christopher Gunther, manager of strategic initiatives, used their grant to build and manage a coalition of local agencies tasked with coordinating children's health services to address gaps in prevention, treatment and care.

Metro Health provides leadership and services for San Antonio and Bexar County to prevent illness and injury, promote healthy behaviors and protect against health hazards. Theresa Medina designed and implemented collective-impact strategies for managing chronic diseases in the region.

The City of New Bedford Health Department works to prevent disease and to promote and protect local public health. Brenda K. Weis and Stephanie Marie Sloan worked with the department's leadership team to identify and advance innovative approaches for streamlining and expanding the delivery of public health services in the community.

The Arkansas Department of Health operates 94 local health units and provides more than 100 services state-wide to protect and improve the health and well-being of all Arkansas residents. J. Don Adams and Cynthia Wyatt created a series of flexible public health service units that are appropriately tailored and responsive to the state's changing demographics.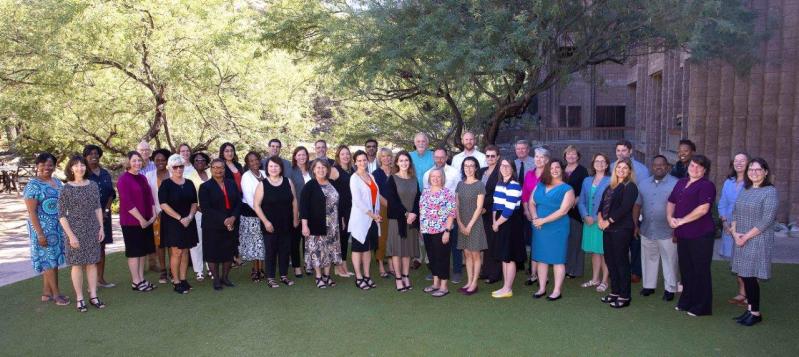 Forty public health leaders who have transformed the role of public health departments in their communities graduated from The Kresge Foundation's Emerging Leaders in Public Health program in October 2019. More than 100 leaders have participated in the program since it began in 2014.
In May 2019, the third cohort of The Kresge Foundation's Emerging Leaders in Public Health initiative explored the "what, why and how" of systems practice, examined what enables or inhibits building effective cross-sector partnerships, discussed how to shift the narrative of racism and inequity and developed strategies for how they could engage the system to effect change.
The leaders will participate in an action-oriented program focused on the design and implementation of a transformative concept that shifts or expands the capacity of their local department.
Kresge's second cohort of Emerging Leaders in Public Health gathered in New Orleans to begin a journey of transforming the role of the local public health agency in their community. Forty local public health leaders from across the country came together for two days of learning, networking and planning.