Detroit Arts Support 2019
We invite arts & cultural organizations in metro Detroit to apply for general operating support from The Kresge Foundation, Fred A. and Barbara M. Erb Family Foundation, Hudson-Webber Foundation, and DeRoy Testamentary Foundation
Founded on the belief that culture contributes to quality of life, Detroit Arts Support (DAS) has provided consistent and flexible support to arts and cultural organizations in the metro Detroit region for over 10 years. A common application to the Kresge, Erb, Hudson-Webber, and DeRoy Testamentary foundations, DAS streamlines the application process for grantees, while allowing partner funders to review the applications thoroughly and efficiently. The four foundations share a single application, review, and reporting process and make independent funding decisions.
Eligibility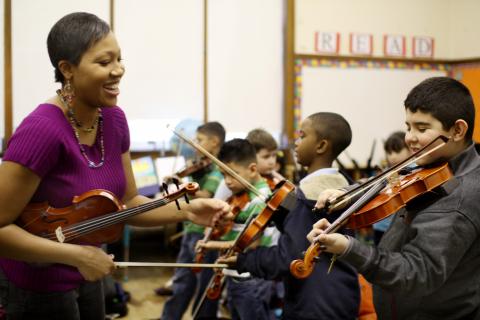 Detroit Arts Support grants provide unrestricted operating dollars to Wayne, Oakland and Macomb county nonprofits in the performing, visual and literary arts, as well as to arts service, education, media and broadcasting, and cultural heritage organizations.
Organizations that have been presenting programs for at least two years, have the equivalent of at least one fulltime employee, have revenues of more than $100,000, and have 501(c)3 status will be eligible for grant funding. While the foundations have separate funding formulas, individual grant sizes will range from $5,000-$100,000 per year. All grants will be made in three-year commitments.
Organizations that are younger, smaller, or lack 501(c)3 status can apply for the Creators of Culture program. Creators of Culture is administered by CultureSource and will award 25 $3,000 grants on a yearly basis for the next 3 years.
To Apply
Organizations that meet the above eligibility requirements can apply through Kresge's online FLUXX system through Monday, June 10, 2019. (This requires a FLUXX account, registration for which takes two to three business days. Groups are encouraged to allow sufficient time for registration and application completion before the deadline.) Applicants Creators of Culture can apply on CultureSource's website. All grants will be announced jointly in September.
For Additional Information
Join us for an in-person Q&A session on Thursday, May 9 (noon-1:30 p.m. at TechTown, 440 Burroughs, Detroit).
Go to the online FLUXX system.
Read guidelines and apply for Creators of Culture grants.