Grants catalyze innovative food-oriented development projects in 23 communities
The Kresge Foundation awards $4.6M in implementation grants for projects that combine healthy food and Creative Placemaking as part of the FreshLo initiative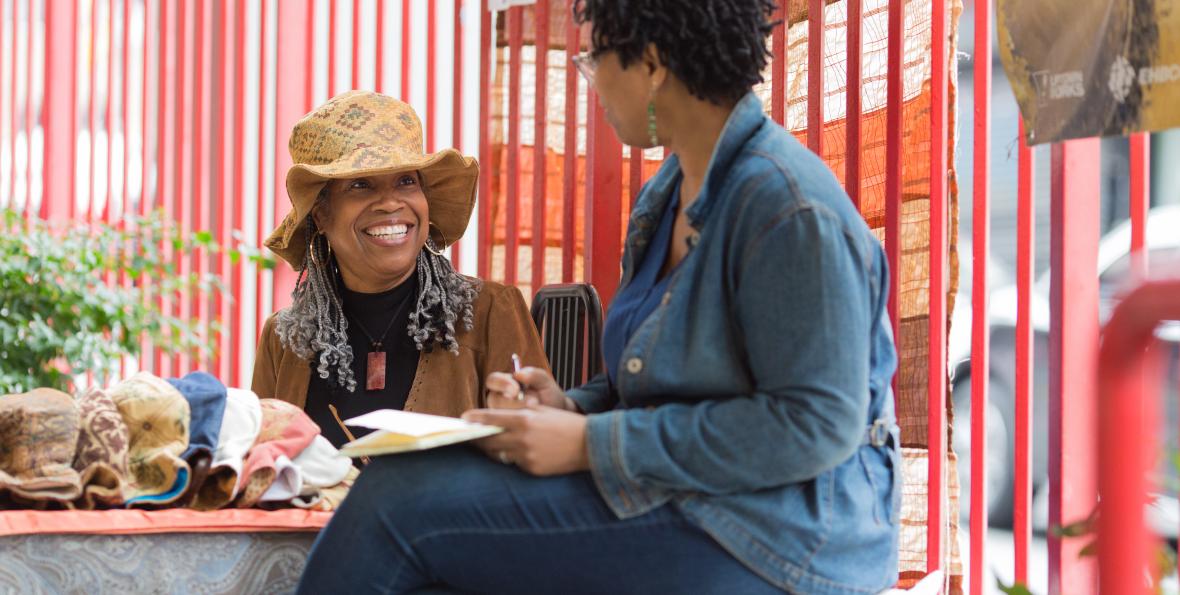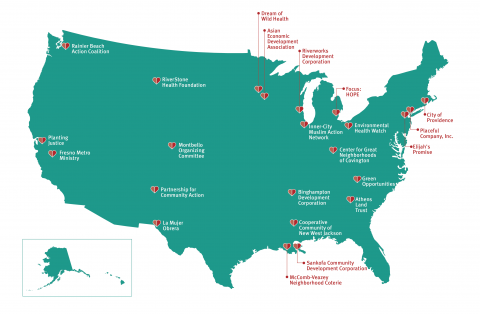 Innovative approaches to economic development, cultural expression and health are at work in 23 U.S. communities with The Kresge Foundation's investment of $4.6 million in grants to develop pioneering food-oriented initiatives in low-income communities.
Nonprofit organizations and coalitions from across the nation were awarded $200,000, two-year grants to implement neighborhood-scale projects that increase equitable economic opportunity for residents by using an approach that blends health, community development and Creative Placemaking.
Dubbed "FreshLo" – for "Fresh, Local & Equitable: Food as a Creative Platform for Neighborhood Revitalization" – the initiative is a joint effort by Kresge's Arts & Culture Program and Health Program. FreshLo is the first national program to intentionally and equitably integrate food, art and community development to drive neighborhood revitalization at this scale.
During the last year, community-based collaborations worked together to create shared visions of FreshLo projects with their neighborhoods said Stacey Barbas, senior program officer with Kresge's Health Program.
"All of these 23 partners developed thoughtful, powerful and community-led projects that reflect the culture and heritage of their neighborhoods," Barbas said. "They are building incredibly dynamic on-the-ground ventures that we are truly excited to support."
Examples of community-led projects include:
An open-air market in New Jersey that features local food, vendors and artisans reflecting the Latino community heritage and culture in the Esperanza neighborhood.
A Creole food and cultural district in a Lafayette, Louisiana, neighborhood that will include local food production and public spaces animated by arts and culture.
A social enterprise center in Albuquerque that includes food processing facilities, art-based enterprises, a dual-language childcare program, and social support programs.
An organic nursery and aquaponics operation in the Sobrante Park neighborhood of East Oakland that will hire formerly incarcerated residents and will include restorative justice programming and skill-building workshops.
Kresge's Creative Placemaking approach includes the deliberate integration of arts, culture and community-engaged design into comprehensive community development.
FreshLo embodies The Kresge Foundation's philosophy that catalytic change to improve opportunity for low-income persons in America's cities requires multidimensional approaches – not simply one program or sector working alone. By avoiding proscriptive solutions, Kresge has intentionally sought to encourage an expansive, unique and creative suite of projects through the FreshLo initiative.
"The activities funded through these grants are indicative of how residents and community partners are using a suite of solutions that incorporates Creative Placemaking to address pressing issues such as food insecurity, vacancy and improving health outcomes. That can lead to reviving the economic activity in their neighborhoods," said Regina R. Smith, managing director of Kresge's Arts & Culture Program.
Organizations awarded implementation grants to develop food-oriented initiatives in their cities are:
Asian Economic Development Association, Saint Paul, Minnesota
Athens Land Trust, Athens, Georgia
Binghampton Development Corporation, Memphis, Tennessee
Center for Great Neighborhoods of Covington, Covington, Kentucky
City of Providence, Providence, Rhode Island
Cooperative Community of New West Jackson, Jackson, Mississippi
Dream of Wild Health, Minneapolis, Minnesota
Elijah's Promise, New Brunswick, New Jersey
Environmental Health Watch, Cleveland, Ohio
Focus: HOPE, Detroit, Michigan
Fresno Metro Ministry, Fresno, California
Green Opportunities, Asheville, North Carolina
Inner-City Muslim Action Network, Chicago, Illinois
La Mujer Obrera, El Paso, Texas
Each organization completed a one-year planning phase for the projects, crafting unique approaches to addressing interrelated needs in culturally rich but low-income communities. The planning grants supported project management, partnership development, community engagement, strategic communications, policy development and other activities directly related to successful outcomes.