Rockwood Leadership Institute
Organization Description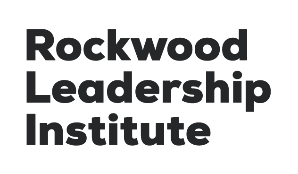 Rockwood's mission is to provide powerful and effective training in leadership and collaboration to individuals, organizations, and networks working for social change. Now in our 18th year, Rockwood has over 6,500 alumni – of which 70 percent are women, and more than 56 percent are leaders of color. Each year Rockwood serves approximately 600 leaders, the majority of whom focus on social change issues such as human rights and justice; racial and economic equity; and civil rights and civic engagement. Since 2008, Rockwood has incorporated a racial and economic equity lens into all of its trainings, and over time has cultivated lenses of gender identity and expression.
Rockwood's theory of change is based on the premise that leadership is a practice and can be learned. Anyone can exercise leadership – it belongs to everyone, and for change to be effective, we must create a diverse world of skilled and interconnected leaders. By providing transformative leadership programs to individuals and cohorts, leaders will be more able to change themselves, their communities, and the world.
While delivering "hard skills," Rockwood's trainings also address personal, organizational, and systemic barriers to leadership. Our work is grounded in the belief that a strong civil society is best supported by visionary, collaborative, and sustained leadership. All trainings are built around six core practices: Purpose, Vision, Partnership, Resilience, Performance, and Personal Ecology. Rockwood's curriculum employs framing, exercises, and perspectives drawn from personal growth methodology; corporate leadership training techniques; communication and conflict resolution; management skill-building exercises; contemplative disciplines; and emotional intelligence practices.
Art of Leadership
A dedicated Art of Leadership retreat for FUEL grantees
Rockwood's Art of Leadership is a five-day intensive off-site retreat that teaches powerful visioning, listening, speaking, presentation, coaching, team-building, and feedback skills to emerging and established leaders. The program infuses concepts of racial, gender, and economic equity within the curriculum and as leaders draw from their personal identity and experiences throughout their participation. Each section of the training focuses on one of Rockwood's six core practices:
Purpose – to live and lead from that which gives our life meaning
Vision – to create a clear and compelling picture of our desired future
Partnership – to build and maintain strong independent relationships that advance our vision
Resilience – to shift from reactivity to a state of resourcefulness in moments of stress and crisis
Performance – to enhance our capacity to produce results that further our vision
Personal Ecology – to maintain balance, pacing, and efficiency to sustain our energy over a lifetime
Grantee Readiness Markers
Rockwood's theory of change is based on the premise that leadership is a practice and can be learned. The word leader is traditionally associated with executives and managers, but Rockwood believes anyone can exercise leadership — it belongs to everyone, and for change to be effective, we must create a diverse world of skilled and interconnected leaders. The ability to inspire and align others is essential in every role and at every level, and that's why our trainings are open to anyone regardless of organizational role.
Having said that, Rockwood's training methodology of transformative leadership is most successful when individual participants are willing and able to take a "deep dive" into their own leadership. This is the hard and joyful work of coming together with a diverse group of people to reflect, learn and take risks to become better leaders in social transformation. Therefore, prerequisites to attend are:
a willingness to step out of comfort zones;
participate in honest self-reflection;
give and receive extraordinarily honest feedback on strengths and challenges;
and a willingness to be transparent and vulnerable in a group of peers.
Selection Process: The Art of Leadership program is designed for a group of 24 leaders across the Kresge Foundation's FUEL 2.0 program. Each organization may nominate 1-2 staff for participation. Given the FUEL 2.0 program goals of building stronger senior teams and mid-level staff, Rockwood encourages participating grantees to consider a cross-section of leaders to nominate. Given the FUEL 2.0 program goals of more diverse talent and more equitable practices, Rockwood urges grantees to nominate leaders of color within their organization. Final selection of the 24 participants will be managed by Rockwood in line with the FUEL 2.0 program goals and outcomes. Invitation to apply does not guarantee admission into the program.
As individuals, Rockwood recommends that participants come with the openness of being in a highly diverse, multi-racial group of leaders at different levels of their own racial equity learning. Participants should expect that other participants in the cohort may show up with varying degrees of racial equity training, and may need to explore their own understanding of how they show up personally in conversations of race. As a cohort, the group will be an important source of support for each other and will benefit from a range of experience, expertise, and perspectives. Rockwood is committed to developing a diverse cohort of leaders who will move through this program together, and will ensure the final cohort is a majority people of color. Rockwood takes into careful consideration race, ethnicity, gender, sexual orientation, other identities, as well geographic diversity in establishing the final cohort.
Expected Grantee Outcomes
Anticipated outcomes for participants include: the ability to sharpen and sustain compelling visions for their work, deal more effectively with organizational challenges, inspire and align others to work effectively toward common goals, manage relationships to increase personal and organizational effectiveness, build effective partnerships inside and outside their organizations, become more skillful at handling challenging interpersonal dynamics and difficult conversations, and manage stress and burn-out. In addition, participants will receive a 360º Leadership Assessment to identify strengths and growth areas, peer coaching with one peer match after the training, and a take-home Art of Leadership workbook and training in evaluation tools.
Grantee Participation Requirements
The Art of Leadership program is a five-day offsite retreat, and we ask that any participating member be available to attend in person for all five days. As the program is rooted in a cohort-based learning model, the presence and participation of the entire cohort is fundamental to the experience and insights generated. In addition, we encourage participants to plan to be "offline" as much as possible, and support leaders in disconnecting from email, work meetings, and other activities that might take their attention away from the deeply introspective work of transformative leadership.
Pre-work includes about up to an hour of completing a "360-Degree Leadership Assessment". Selected participants will be asked to conduct their own self-assessment and then share out a link to a 360 Assessment with their communities (including supervisors, coworkers, community partners, board members, etc.) in the weeks prior to the training. This assessment will be used in the training to help participants understand the impact of their leadership on others, and is a critical learning component.
Post-work includes up to an hour of completing a post-training evaluation survey. This survey asks for feedback on the training that will support both Rockwood, as well as CWP and the Kresge Foundation in its ongoing learning for both the Art of Leadership as well as the FUEL 2.0 program.
For more information and FAQs on the program, please visit https://rockwoodleadership.org/art-of-leadership/.
As mentioned before, Rockwood's training is open to all leaders irrespective of position or seniority within their organization. However, we encourage participants to have the support of their supervisors and coworkers in attending a full five-day residential retreat from Monday to Friday with minimal disruption.
Service Dates and Locations
Below are the dates and location for the Art of Leadership:
Please be sure your nominee is available to attend the training from the Monday at 3 p.m. local time to Friday 1 p.m. local time. Grantees that are initially matched with Rockwood's Art of Leadership will be asked to submit their nominees after the initial matches are announced early in 2019.
Depending on location, your selected participants may need to travel to the program site the night before in order to be present at the beginning of the training, 3 p.m. on Monday.
Travel subsidies will be available through FUEL 2.0 for grantees who need them. For details, please see the FUEL 2.0 website or reach out to Wes Gifford at Community Wealth Partners (WGifford@communitywealth.com)
Thank you for your interest in Rockwood and this Art of Leadership training for FUEL 2.0 grantees!