Rockwood Leadership Institute
Organization Description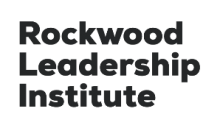 To create a transformative, sustainable shift toward equity in our society, our organizations and movements require leaders who are supported, connected, and inspired. Rockwood Leadership Institute (Rockwood) builds powerful networks of social change leaders through transformative leadership programs, practices, and resources to create a more just, sustainable, and equitable world. 
Rockwood addresses the chronic underinvestment in leadership development for individuals working to advance social justice. Founded in 2000, Rockwood provides powerful and effective training in leadership and collaboration to nonprofit and philanthropic leaders, organizations, and policy-change networks. Today, Rockwood has more than 6,500 alumni (of which 70 percent are women and 56 percent people of color), making it the nation's largest, most diverse provider of multi-day leadership trainings for the nonprofit community.
Art of Leadership
Rockwood's Art of Leadership is a five-day intensive retreat that teaches powerful visioning, listening, speaking, presentation, coaching, team-building, and feedback skills to emerging and established leaders.
Service Description
Rockwood's curriculum focuses on transformation and "leading from the inside out" to help leaders examine and overcome their own obstacles to leadership and success. The program infuses concepts of racial, gender, and economic equity within the curriculum and as leaders draw from their personal identity and experiences throughout their participation. Our programs are led by nationally recognized thinkers, educators, and activists who are experts at sharing in-depth insights and innovative leadership practices.
Art of Leadership Details

Length

5-day commitment: Monday at 3 p.m.-Friday at 1 p.m.

Participation

24-30 participants per training to create an intimate learning community for developing skills and sharing knowledge (depending on the topic area focus, anywhere from 1-5 individuals could participate from one organization)

Key Topics

Learn six core Rockwood Leadership Practices: purpose, vision, partnership, resilience, performance, and personal ecology

Key Learnings

Leaders will be able to:

Sharpen and sustain compelling visions for their work
Deal more effectively with organizational challenges
Inspire and align others to work effectively toward common goals
Manage relationships to increase personal and organizational effectiveness
Build effective partnerships inside and outside their organizations

Additional Benefits

360º Leadership Assessment: identifies strengths and growth areas
Peer Coaching: partner with one peer match after the training
Take-home Art of Leadership workbook and training in evaluation tools
Art of Leadership Exclusively for Kresge Environment Program Grantees
This experience would be exclusive to 18-30 Racial Equity Learning Program participants to attend the Art of Leadership together as a cohort for leaders committed to racial justice in their environmental work. Rockwood will work with Community Wealth Partners on choosing one training date and location in 2019 for leaders from multiple organizations, creating a shared learning experience among Kresge participants. The number of organizations represented within the cohort will be determined by grantee organizations' overall interest in Art of Leadership and the types of results that are rising to the top for interested organizations. Grantee organizations may be able to send anywhere from 1-5 individuals to the cohort.
Testimonials
"When (my co-worker and I) left the training, we felt more coordinated, and better equipped to take on some of the key areas of growth necessary for the success of our organization."
–Miya Yoshitani, Executive Director, Asian Pacific Environmental Network
"I reconnected to how I shine, to my power, and to my ability to articulate both."
–Meaghan Calcari Campbell, Program Officer, Marine Conservation Initiative, Gordon & Betty Moore Foundation
Service Dates and Locations
Rockwood's Art of Leadership is held multiple times throughout the year at beautiful retreat centers in natural settings. We partner with sites that combine affordability with serenity, professionalism, comfort, and high-quality food. The training dates and location will be determined based on availability and preference of the organizations interested. The weeklong training may occur anytime from December 2018-June 2019.
Typical training sites include:
​
Readiness Markers
Individual
The word leader is traditionally associated with executives and managers, but at Rockwood, everyone can exercise leadership. The ability to inspire and align others is essential in every role, and at every level. That's why our trainings are open to anyone who's interested in deepening and strengthening their leadership skills. The only pre-requisites are a willingness to step out of comfort zones, give and receive feedback on strengths and blind spots, and learn with and from others. Leaders can adapt their Art of Leadership experience to focus on their purpose or role in advancing racial equity.
Organizational
Rockwood does not have specific organizational readiness markers other than the organization's commitment to supporting participants to fully attend the five-day residential retreat as an intensive retreat experience. Rockwood expects participants to be able to focus on the training and not day-to-day work as much as possible while at the training.
Participation Requirements
Time Commitment
The Art of Leadership is a five-day intensive retreat. Leaders should allot time to be completely present and focused on connecting with themselves and their work while in a supportive community and relaxing natural setting. Participants will need to account for travel to and from the retreat site. Note: Travel subsidy support will be available from The Kresge Foundation, and will be managed by Community Wealth Partners (additional details are in the application).
Pre-Work
All Art of Leadership participants are required to complete a 360 degree leadership assessment before attending the retreat. Participants will receive an email invitation to complete a self-assessment and ask at least 10 previous or current colleagues to complete a peer assessment. The survey questions inquire into a leader's ability to move work forward effectively and collaboratively, and can create increased awareness of strengths, challenges, and impact based on feedback from their team and community.
Estimated time commitment: 1-2 hours
Post-Work
After the retreat, participants will be required to complete a training evaluation survey. All other post-training work is optional. Individuals determine their own pace and timeline for implementing skills and practices. Each participant will partner with a member from their training to serve as a peer coach after Art of Leadership.
Estimated time commitment: 1 hour required, optional peer coaching
​
Personnel Requirements
Rockwood was founded on the idea that leadership can be taught and that anyone can exercise leadership, regardless of organizational title or role. Any member of an organization can attend Art of Leadership. The decision about which individual(s) will attend is completely up to the organization.