Partners for Collaborative Change
Organization Description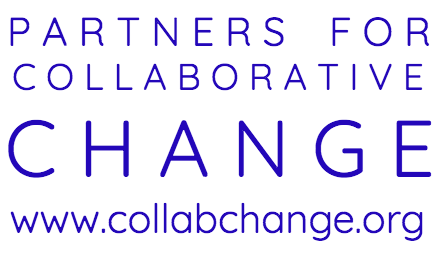 Partners for Collaborative Change is national organization made up of a team of artists, facilitators and consultants who come from the social and environmental movements that we serve, committed to transformative social change. We offer technical assistance, training, coaching and curriculum. Our purpose is to support organizations to become more equitable. We do this by:
Democratizing research, planning and design.
Anti-oppression facilitation and coaching.
PFCC's work is rooted in Popular Education. What this means is that we work for organizational and personal transformation through pedagogical practices that support the development of critical consciousness. We "start where people are at" individually and collectively to strengthen what is already strong and lift up that internal knowledge and expertise. It also means that at every turn we lift up the voices and strategies of the people who are most impacted by the challenges an organization is attempting to address. We have a depth of experience in facilitating, and designing curriculum for creative and arts-based Participatory Action Research projects that enable community driven planning, and are excited to offer this aspect of our work for this initiative.
We see Kresge's Racial Equity Learning Program as an invitation, an experience and a movement building moment in which dedicated and passionate environmentalists of all backgrounds can gain a historical, visionary and intersectional understanding of the work they do, in service of ensuring that Earth's life support systems and human dignity are accessible to all.
We would like to acknowledge that the work we are proposing is possible because of the years of historic and groundbreaking work done through the efforts of the environmental justice movement. The principles, protocols and practices cultivated by the EJ movement provides us both hope and instructive guidance on ways to forge the inspirational vision, political alignment and common cause that our progressive movements will need to win.
Racial Equity in Community-Driven Climate Resiliency Planning
We will work with a cohort of individuals within organizations who are leading their community-driven climate resiliency planning to support them every step of the way.
This cohort will be limited to 1-2 individuals from 15 organizations. For a total of 30 participants or less.
Key Topics Covered in the Cohort
Charity vs. real community engagement; transforming the paradigm of "helping" communities for authentic community leadership.
Racial equity in community-driven planning; Pivoting from practices that perpetuate systemic oppression towards collective liberation, guided by the Jemez Principles.
Building the wheel; Learning from and building on historical community-driven research and planning practices instead of starting from scratch.
Grantees Can Expect to Receive
Curriculum rooted in Participatory Action Research, Popular Education and Cultural organizing.
Support in developing a process that is relevant and responsive to the communities that each cohort member is working with.
Training in how to center racial equity in the community driven process.
A peer learning community for ongoing reflection and support.
Weekly open "office hours" for cohort members of the same "phase" to check-in and receive support for addressing various nuances of this work.
One on one coaching when needed.
Coaching may also be available for grantees who are matched with this service and who are interested. Please see here for a description of Partners for Collaborative Change's typical coaching work.
Service Dates and Locations
Oct 2018 2 hour Virtual orientation and "meet and greet"
October - November 2018 - one-on-ones to gauge where each project is at, and inform cohort curriculum.
March 2019, Bay Area, CA three-day, in-person convening
February - July 2019 weekly open office hours for each "phase" group, along with one on one coaching as needed
April 2019 Two-hour virtual convening
June 2019 Two-hour virtual convening
August 2019, Location TBD (potentially East Coast) in person three-day, in-person convening
Readiness Markers
Cohort members should be either beginning to plan, or are in the middle of executing a community-driven process. This is not for organizations who are simply exploring what this could look like, but instead already have a budget and commitment in place to do it.
Time Commitments
Roughly eight hours of virtual meetings, 10 hours of showing up to optional open office hours and six days of in-person meetings as outlined above.
Personnel Requirements
At least one of the participants from an organization must be the person who will be providing in-person guidance and/or facilitation of the community-driven process.