The Young Invincibles bus tour focuses on solutions to #FixYoungAmerica
Spotlighting education and other issues, the group's Campaign for Young America includes events on 50 campuses in 34 cities.
Unemployment. Rising tuition and healthcare costs. Unprecedented student debt. America's twenty-somethings know the path to the middle class is steep and treacherous. Some predict this generation will be the first in the country's history to wind up worse off than their parents.
But the Young Invincibles, a national organization that represents the interests of 18-34-year-olds, refuses to take that news sitting down.
Last week, the Young Invincibles kicked off a nationwide bus tour that will stop in 34 cities for more than 100 events and roundtable discussions. YI members will meet with and gather ideas from all kinds of young people – four-year college students, community college students, young non-students, professionals, civic leaders and policymakers.
The National Youth Bus Tour is part of the Young Invincibles' Campaign for Young America, a project created to raise awareness of the issues most important to young Americans, develop an agenda to drive policy change and empower thousands of young people to put their energy, hope and frustration to good use.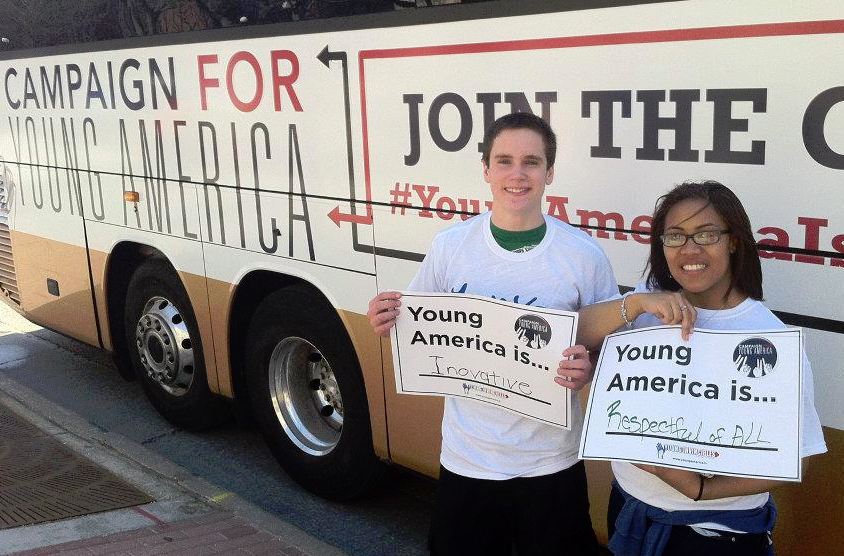 "We'll be hearing from young people and trying to elevate their voices," says Aaron Smith, executive director of the Young Invincibles.
A $110,000 grant from The Kresge Foundation helps support the tour and interactive features being developed for the Campaign for Young America website, youngamerica.is. Other supporters include Lumina Foundation for Education and The Atlantic Philanthropies.
Committed to improving pathways to and through college for young people who might not otherwise have the opportunity, Kresge values the Young Invincibles' commitment to supporting this demographic group.
"They've done a lot of grassroots work to bring to the fore the importance of importance of preserving Pell Grants and healthcare opportunities for college students," says Julian Haynes, a Kresge program associate. "Those kinds of efforts are critical to advancing the college-completion agenda in the United States and being economically competitive in the future."
You can find them
· @YI_Care on Twitter (and look for the hashtag #FixYoungAmerica)
· And on Facebook
Founded in 2009 by a group of Georgetown University law students, the Young Invincibles began as an all-volunteer organization run out of the law school cafeteria. Its first priority was making sure young people's voices were heard in the healthcare reform debate. But YI has broadened its scope to include issues like jobs, education and consumer debt, and gained momentum and influence.
YI Deputy Director Jen Mishory, an expert in higher education policy, was recently named to a U.S. Department of Education committee that's crafting new regulations around student debt.
"The Young Invincibles have a lot of energy and have gotten great exposure," Haynes says. "I think it's a very timely grant given the state of American higher education."
The three-month bus tour began in Madison, Wis. It will pass through states in the Midwest, Southeast and West Coast. The Campaign for Young America also encourages young people to share their stories and their ideas on its website, which includes a jobs toolkit and "Skills That Work" summary -- a state-by state resource detailing the 10 occupations with the most projected job openings.
"Beyond the bus tour, in 2012 there's going to be a lot of attention paid to young people and what they're thinking," says Smith. "I think this is really just the start."