White paper makes case for strengthening families by supporting development of social and personal assets
Authors at Brandeis University cite success stories that advance economic security.
There's ample evidence that personal and social assets − such as homes, cash savings, education, job skills and health care – provide individuals, families and communities with economic security, upward mobility and opportunities for growth. But the widening income gap in the United States makes it increasingly hard for those with limited resources to get a toehold.
Philanthropies could make greater strides toward reducing poverty by incorporating asset-building programs into grantmaking strategies, according to a white paper by the Institute on Assets and Social Policy at Brandeis University.
Basing their conclusions on current literature and research, the authors write that asset-building models piloted in low-income communities by national philanthropies are already helping families build wealth and move ahead.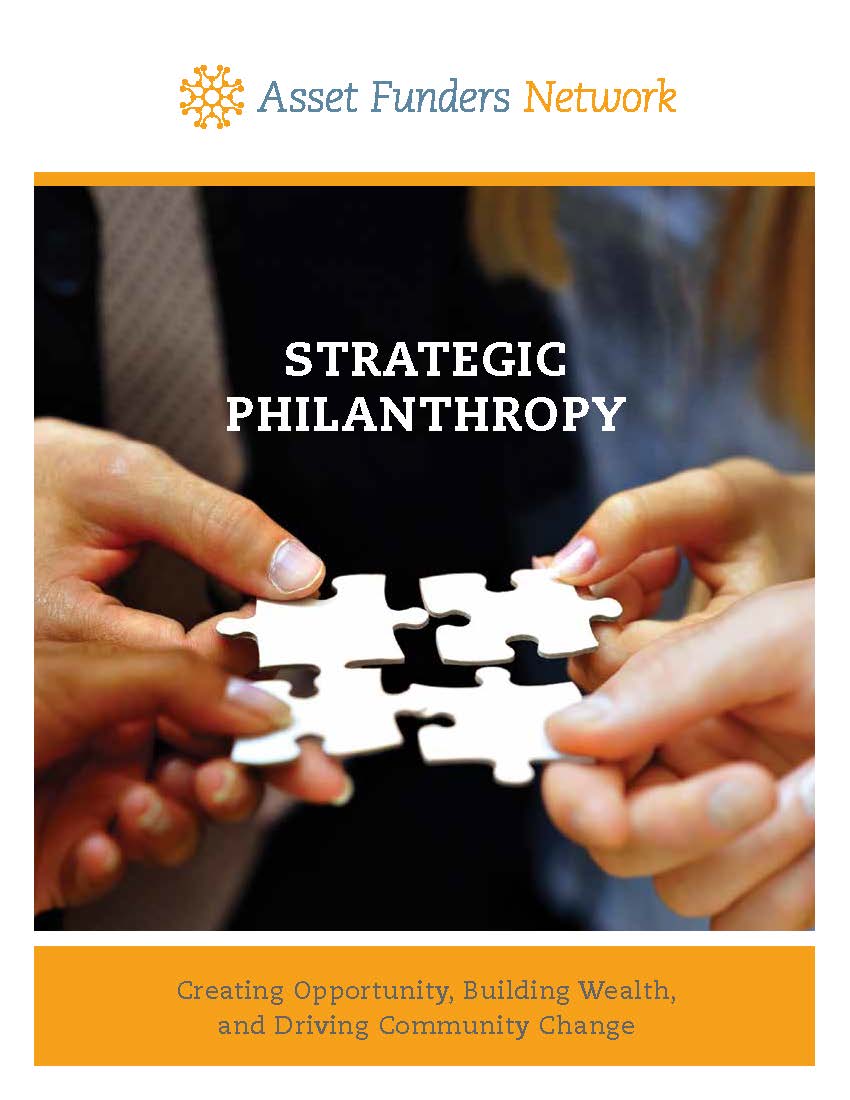 The white paper offers recommendations to funders that want to integrate asset building into their philanthropic missions and portfolios.
"Building assets has never been more important for our economy and our nation's families," says Annika Little, strategic program manager at Asset Funders Network.
Asset building refers to the public policies, strategies and programs that – over the long term − enable people with limited finances to accumulate not only tangible possessions, such as a car or house, but intangible things, such as health and education.
Asset building enables families and communities to move from surviving to thriving, from vulnerability to opportunity and from insecurity to long-term well-being, Little says.
The Asset Funders Network is an affinity group of funders. It commissioned the white paper, "Strategic Philanthropy: Creating Opportunity, Building Wealth, and Driving Community Change." Kresge is a member.
Kresge's Human Services Program has also funded related research by the Institute on Assets and Social Policy, a leader in applied research and technical aid to nonprofits designing asset building strategies for low-income individuals and families.
Kresge programs expand opportunities for vulnerable people in America's cities. The Human Services Program works to improve the quality of life and economic security of vulnerable people by strengthening Human Services organizations.
In addition to creating a level of economic security, building assets contribute socially and psychologically to family and community health and well-being, the authors write.
Low-income families are better able to buffer economic shocks, such as job loss. Bank savings, loans and credit also open doors to higher education, homeownership and small business opportunities. Over time, asset-building policies and programs can help to narrow the wealth gap and foster greater racial and gender equity.
The white paper highlights success stories of foundations that are framing their philanthropic investments as asset building to reach across sectors, such as workforce development, microenterprise, education and college completion.
These initiatives engage multiple funders, community organizations, government agencies and academic institutions to achieve greater impact.
A grant by Kresge's Education Program was among the examples. The Education team partnered with three other philanthropies and Central New Mexico Community College on an asset-building initiative called CNM Connect. The program offers community college students access to financial, supportive and coaching services to help them remain in school and complete their degrees. CNM Connect already has boosted the retention rates of first-time and returning students.
The bottom line, Little says, is that asset building can produce greater benefits for more families when it is incorporated into a wider swathe of grantmaking.
Read the full report, "Strategic Philanthropy."