Wendy Lewis Jackson Is Named the 2008 Emerging Leader in Philanthropy by the Association of Black Foundation Executives
At the Council of Foundations'; annual conference, Jackson is honored at the James A. Joseph Lecture and Awards Ceremony.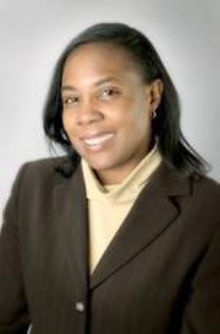 TROY, MICHIGAN – Wendy Lewis Jackson is a grantmaker whose professional life has been devoted to addressing some of society's most intractable problems and bringing about meaningful social change, particularly for vulnerable children, families and communities.
In recognition of her work, the Association of Black Foundation Executives presented her with its 2008 Emerging Leader in Philanthropy Award on May 3 at the Council on Foundations' 59th annual conference in National Harbor, Maryland.
The award, which was established in 2002, recognizes an outstanding individual whose innovative leadership promotes philanthropy as a means of social change in black communities. "It is truly an honor to receive this important recognition from ABFE," Jackson says.
Jackson, a program officer at The Kresge Foundation, is a member of the Detroit Program team. The Detroit Program is a major, comprehensive effort to strengthen the long-term economic, social and cultural fabric of the city and surrounding region. Most recently, she is heading the foundation's efforts to combat the city's foreclosure crisis. Jackson also serves on the Community Development team, which is national in focus.
"Wendy's reputation as a creative problem solver and caring grantmaker preceded her arrival at Kresge," says Rip Rapson, president of the foundation. "We salute the association for recognizing her in this public way and are deeply proud of our colleague and friend."
Prior to her arrival at the Kresge Foundation, Jackson served for 14 years as a program director and executive director for education initiatives at the Grand Rapids Community Foundation in her hometown of Grand Rapids, Michigan. During that time, she was active on several local, state and national boards and committees, and gained extensive experience in fostering and sustaining community collaborations. Much of her work focused on using philanthropy to improve programs and conditions for children and families in African-American neighborhoods.
The Association of Black Foundation Executives is dedicated to promoting effective, responsive philanthropy in black communities; its members serve as catalysts for advancing practices that build on a tradition of self-help, empowerment and excellence to solve the challenges facing those communities.
The award was presented during the James A. Joseph Lecture and Awards Ceremony. The lecture, which began in 1991 and is named in honor of James A. Joseph, a distinguished leader in philanthropy and the co-founder of the Association of Black Foundation Executives, offers recipients a forum for discussing philanthropy's role in social change.
Jackson received her undergraduate and master's degrees in social work from the University of Michigan, where she concentrated in community organization and social policy and planning. She is an American Marshall Memorial Fellow of the German Marshall Fund of the United States. She and her husband, Carlton, have two daughters.