Wayne State grad learns importance of Creative Placemaking practice
While Corissa Green is in Midtown Detroit for classes at Wayne State University, she notices the changes around the city. How community members, like artists, have played a part in creating new opportunities and development. Now, Green has a bird's-eye view of how those projects come to fruition as an intern this summer with The Kresge Foundation's Arts & Culture Program.
Green, 27, is a graduate of Wayne State's urban studies program. She will return to her alma mater in the fall to pursue a master's degree in urban planning. She was chosen for the Kresge internship program because of her curiosity about the Arts & Culture team's strategy focused on Creative Placemaking. Green, a resident of Ferndale, Michigan, has a background in housing development through her work with Cass Community Social Services' Tiny Home Initiative to house low-income people in Detroit.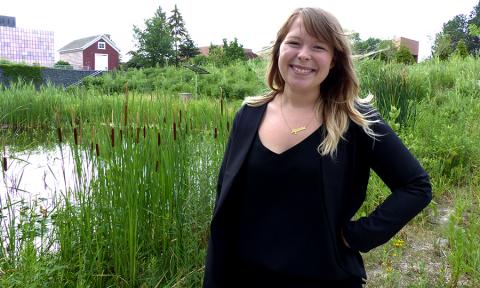 The first-generation college graduate grew up in rural areas around Muskegon, Michigan. Her passion for cities was fostered there, but she didn't begin to understand the importance of residents feeling included in their cities, specifically when it comes to revitalization, until she moved to metro Detroit. Green said cities have to grow with their residents to be representative of their various cultures.
"It's important to represent people, conveying who they are culturally," she said. "Its more than just a place that exists and art has an interesting way of conveying those things."
Michelle Johnson, program officer with Kresge's Arts & Culture team, said Green's past experiences and future educational goals align with the program's work.
"She has expressed a natural curiosity to obtain practical experience and understand our approach related to the integration of arts, culture and community-engaged design," Johnson said.
During her internship, Green will create a map and survey to support the National Network grantee convening, which provides grantees with tools to inform others about how their work is expanding the practice of Creative Placemaking. Green will also develop a resource tool to catalog elements of the team's grant portfolio for communication purposes.
In her first four weeks, Green said, she's participated in discussions about cross-team grant opportunities to make art more accessible to communities in interactive ways. She said Creative Placemaking can contribute to revitalization and encourage equitable development.
"It not only makes projects more accessible, it adds a visual design component," Green said. "When you have artists working on a project they may think about how a person interacts in a space more than a city planner would."