Uplifting the Economically Disadvantaged in Charleston's Off-Shore Pockets of Poverty
Roman Catholic Nuns, Lay Staff and Volunteers Strive to Raise Living Standards, Educational Levels and Life Quality among Sea Islands
TROY, MICHIGAN – After Hurricane Hugo ripped through Johns Island off the coast of Charleston, South Carolina, in fall 1989, island residents awoke one morning to the miraculous sight of two women – one a Roman Catholic nun – with tool belts strapped around their waists climbing on storm-battered houses to repair or replace damaged roofs.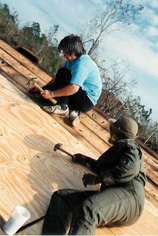 The two roofers, Sister Carol Wentworth and Jacqueline G. Jefferson, who jokingly referred to themselves as the "Nun-Better Roofing Company," were actually from the community-service organization now known as Our Lady of Mercy Community Outreach Services, or simply OLMO.
For 19 years, this small, dedicated band of nuns, lay staff and volunteers have been providing free health, education and outreach services to the unemployed, working poor and indigent families living on the Sea Islands – Johns, James and Wadmalaw – at the confluence of the Kiawah and Ashley rivers in Charleston County.
Many indigenous island residents, both black and white, can trace their agrarian roots back several centuries. Over the past five years, new waves of Hispanic and Latino migrant workers have swelled the island populations, creating an even greater demand for the vital services provided by OLMO's 15-member clergy and lay staff in partnership with caregivers from a hospital and a medical school in Charleston.
"We try to serve in a holistic manner that looks at a person's whole life and helps each individual address his or her needs with inner strength that already exists or can be developed," explains Sister Mary Joseph Ritter, the director of OLMO. "Our organization seeks to convey a real sense of respect for people and to see their potential rather than their problems."
Last year, 3,000 island residents were given dental treatments and prenatal care in the cramped quarters of a 1,500 square foot double-wide trailer that has served as OLMO's Wellness House since 1999. Countless others received emergency food, clothing and medicines, as well as other basic necessities. Many islanders also attended parenting programs, literacy classes and after-school tutoring sessions designed to foster self-esteem and self-sufficiency and to help them break the endless cycle of poverty.
Having outgrown its current temporary facility, OLMO recently embarked on a capital-expansion campaign to raise $4.5 million for the construction of a permanent 4,500 square foot Wellness House and the creation of an endowment to sustain it.
In December, The Kresge Foundation awarded the organization a $500,000 challenge grant for its ambitious building project. "We are still on cloud nine," Sister Mary Joseph says. "This will allow us to build the new facility and expand our services."
OLMO exemplifies many of the values the Kresge Foundation seeks to support, explains senior program officer Virginia Romano. "We applaud their ongoing efforts to meet the needs of the most vulnerable and economically disadvantaged people while addressing the root causes of poverty," she says. "Through a continuum of supplemental and support services, this organization strives to improve overall living conditions and the quality of life for the poor."
These charitable deeds have not gone unnoticed in the Charleston area. "Since OLMO's inception, I have never heard anything but praise for the people involved and their work," says Richard Hendry, vice president of programs at Coastal Community Foundation of South Carolina.
"The services they provide are vital to every community regardless of income level because they're so basic – decent housing, educational programs, dental and health care, food and clothing," he adds. "However, the qualities that really distinguish OLMO are their respect, compassion and love for those they serve and their conviction that we're all part of 'the family of man' and we're all equal in God's eyes."