Trio of brochures highlight Kresge history, headquarters, Detroit office
Downloadable documents provide a primer on The Kresge Foundation
A trio of new brochures – available for download – chronicle The Kresge Foundation's history, sustainable headquarters campus and its downtown Detroit office.
The publications mark the recent opening of a new wing to Kresge's headquarters in Troy.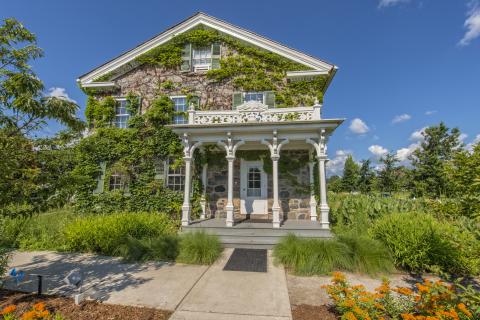 History of the Foundation and its Headquarters traces the evolution of the organization from its founding in 1924 by Detroit businessman Sebastian Spering Kresge. It includes a timeline of foundation home bases – from inspirational Albert Kahn-designed buildings in the 1920s and '30s to the current location which has been home since 1984.
Our Green Headquarters details the foundation's three-acre campus, anchored by an 1850s farmhouse and barn that were once part of a 300-acre dairy farm. Nested in the shadow of commercial office buildings and recognizable by a pair of vintage windmills, the campus incorporates cutting-edge sustainable design and infrastructure. Its current building was completed in 2008, and an expansion was completed in late 2015.
Midtown Detroit Office explores the foundation's renovated space in a historic building overlooking bustling Woodward Avenue. The touchstone for Kresge's work in the city, the office, which opened in 2012, is designed to convene employees, grantees, partners and allies in community-building work in the city.
"The blending of the historic and the modern – and maximizing sustainable systems and features in both locations – was very intentional," said Cynthia Powors, Kresge facilities director. "We wanted to stay true to our roots while at the same time constructing modern, healthy workplaces that facilitate efficiency and teamwork."