Survey: We want to hear from you!
Help us get to know you better by taking our audience engagement survey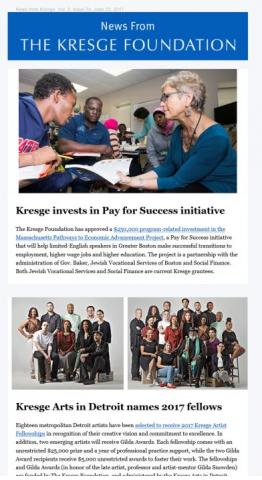 During the past two years, The Kresge Foundation has greatly increased its digital presence through social media accounts, a weekly digital newsletter and expanded web content, including videos, news articles, infographics and other interactive content on kresge.org. This work was done in the hopes of reaching a broad, influential and diverse audience with relevant and engaging content about work being done both through the foundation and our partners on the ground to improve outcomes for low-income people in America's cities.
Now we want to hear how you think we're doing. The Kresge Communications Team is conducting an audience engagement survey. This short survey, which will be available online for several weeks, will help our foundation establish a more genuine digital presence, serving up content that best fits the desires of our audience.
Please take the survey now – and thank you!