Survey finds communities in the Northeast are trying to plan for changes in climate, but need help
Landmark report by Clean Air-Cool Planet finds concerns ranging from public health to sea level rise and the economic impacts on tourism.
TROY, Mich. – The nonprofit environmental organization Clean Air-Cool Planet has released a first-of-its-kind report on the needs, concerns, and activities of communities in the Northeast that are beginning to confront the realities of a changing climate.
The report is based on direct outreach to more than 200 communities from Maine to New Jersey. It includes survey responses from 34 local governments, six regional governments, and eight state agencies.
Released Thursday, the report offers a snapshot of the ways communities in that region are preparing for a changing climate, and what resources and assistance they need to succeed.
Read the entire report, "Preparing for the Changing Climate: A Northeast-Focused Needs Assessment." (PDF)
Read the executive summary. (PDF)
The Portsmouth, N.H.-based Clean Air-Cool Planet works to foster climate-change adaptation planning and preparedness in Northeastern U.S. communities.This effort is part of a multi-year grant of $550,000 from The Kresge Foundation.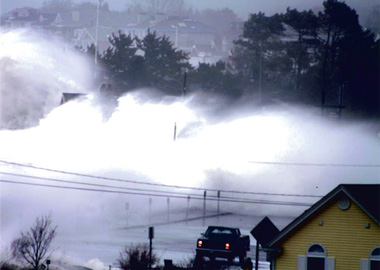 Clean Air-Cool Planet representatives briefed members of the White House Council on Environmental Quality adaptation staff on the report earlier this week.
States and communities in the Northeast are focused on climate-change issues as diverse as sea level rise; natural resource management; regional tourism impacts; infrastructure vulnerability; public health systems; public water supplies; and drought and flood responses.
A growing body of impact studies underscores the importance of planning for adaptation to climate change, documenting climate shifts already in evidence and the likely consequences of unchecked global warming.
"Communities are at the receiving end of climate vulnerability, and it is at the local level that understanding of and investment in climate preparedness must begin, because that is where solutions will be needed," said Adam Markham, president of Clean Air-Cool Planet.
People on the front lines of climate preparedness efforts include community leaders, planners, local officials, resource managers and health officials.
Among the findings:
More than half the people who responded said they are engaged in some form of adaptation planning. One-third are concerned about the risks from climate change, but are not sure what steps to take or lack capacity to take the first steps.
Common concerns include infrastructure vulnerability from sea-level rise, increased precipitation, and floodplain changes, as well as adequate protection for public welfare and health.
The most pressing data need is for high-resolution local maps that project sea level at different time scales.
At a time of constrained financial resources at the state and local levels, making climate preparedness and adaptation action a priority among competing needs is very difficult.
A substantial number of respondents noted that increased skepticism on climate change presents an additional hurdle for action.
The need for technical assistance:
For local officials, the top priority is help identifying the most critical local vulnerabilities -- where roads, buildings and energy infrastructure might be exposed to a changing climate. A third of local officials identified a "vulnerability assessment" as their top technical need.
Communities want technical assistance coordinated by the state and federal governments. They cite a need for standardized approaches and guidelines to avoid duplication of effort or incompatible action from town to town.
Efforts to provide such assistance are under way at state and federal agencies, in close partnership with the region's universities and nonprofit organizations.