Surprise: You've earned a college credential
Kresge-backed Project Win-Win mines college records to find unsuspecting graduates.
When he stopped taking classes at Northwestern Michigan College, Kulin Froelich knew a single math class stood between him and an associate's degree.
Like many adult students, the 29-year-old had sporadically attended several schools intending to piece together his transcripts for a degree. But working as a chef in a resort town, raising his toddler son, trying to buy a house and planning a wedding had kept him busy and away from academics the last few years.
That missing math class just wasn't his top priority.
What he didn't know was that he had done all the work for a 54-credit culinary-arts certificate at the Northwestern Michigan's Great Lakes Culinary Institute.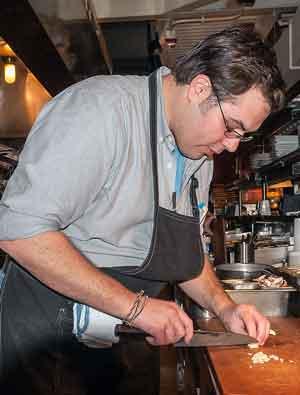 He learned about his accomplishment from administrators at the Traverse City school who had, as part of Project Win-Win, examined his transcript, determined he was eligible for the certificate and contacted him. A four-year, nine-state, data-mining effort, Project Win-Win identifies former students who had either earned academic credentials but never received them or were within a few credits of completing a program. Win-Win provides a roadmap for institutions to put more degrees in the hands of deserving students, benefitting students, colleges and society as a whole.
"I applied for it online and a little while later they sent me my certificate," Froelich says. There was no graduation ceremony, but Froelich says, "We had our own celebration."
An initiative of the Institute for Higher Education Policy, Win-Win has involved 64 community colleges and four-year institutions that award associate's degrees in nine states.
Kresge's Education Program supports the effort at nine of Michigan's 23 community colleges.
Lumina Foundation for Education, a frequent Kresge partner, supports the initiative in Florida, Louisiana, Missouri, New York, Ohio, Oregon, Virginia and Wisconsin.
Kresge works to expand opportunity for low-income people in America's cities. Its Education Program promotes postsecondary access and success for low-income, first-generation and underrepresented students. 
Mining transcripts
Administrators at participating colleges examined transcripts to identify former students who had never been awarded any post-secondary degree, had completed at least 50 credit hours and had at least a 2.0 grade-point average.
In the nine states, more than 6,700 students were eligible for associate's degrees but hadn't received them, and about 20,000 students needed fewer than 12 credits to finish programs. In Michigan, Kresge's home state, the effort located 1,323 people who were eligible for degrees or certificates and 6,935 who needed just a few courses to finish.
To date, more than 4,500 students including 1,087 in Michigan have received degrees or certifications they had earned but not claimed, and another 1,668 students have returned to the classroom.
The national Win-Win numbers work out to about 1,500 graduates a year. According to a Chronicle of Higher Education review of college completion rates, these 1,500 community college graduates represent a "class" that is bigger than one of the nation's largestproducer of community college degrees – Valencia Community College – or the number of bachelor's degrees produced by Duke, Harvard or Stanford.  
"These students can now claim a credential that has real value in the labor market," says Bill Moses, who directs the Kresge's Education Program. "People with associate's degree are going to earn more money than people who have some college but no actual credential.
"Programs like Project Win-Win are really designed to get deserving individuals more quality degrees and credentials so that first, our labor market is more globally competitive and second, so that we can provide more individual opportunities for those people in their own lives," Moses says.
Lessons from Win-Win
There are a variety of reasons students don't finish course work or ask for credentials. Some intend to transfer their credits into a baccalaureate program and may not be aware that they could – or should – apply for the associate's or certificate credential. Some eligible students had holds for parking tickets or library fines, and others weren't able to pay the graduation fees.
One of the immediate policy changes at several schools as a result of Project Win-Win is an "opt-out" instead of "opt-in" procedure for students to receive degrees and certificates. At nearly all schools prior to the initiative, students had to "ask" for the degree audits in applying for graduation. Now the schools are automatically conducting the audits.
Carol Taberski, registrar at Northwestern Michigan College, says she was initially reluctant to take that approach. But then, because of Project Win-Win, 148 degrees or certificates were awarded. "I've come around," she says.
At Mott Community College in Flint, Mich., Registrar Chris Engle says Project Win-Win allowed administrators to find 447 students who were within a few credits of earning a degree and actually award the degree to 50, some of whom had left campus years before.
But disappointingly, says Engle, who is also dean of enrollment and retention, 416 of the students could not be located. With street addresses, emails and phone numbers in flux, he notes, "We can't wait five years to try and get ahold of people."
In addition to Project Win-Win, Kresge supports another effort to ensure community college students credit for and the benefit of their time in classrooms, "Credit When It's Due: Recognizing the Value of the Quality Associate Degree." That initiative is expected to lead to more than 20,000 students receiving degrees over a two-year grant period. Learn more about "Credit When It's Due."