Support program at award-winning housing complex empowers families
Goal-setting, childcare supports, safe permanent housing and community partners help residents on path to self-sufficiency.
A renovated affordable housing complex in southeast Michigan is earning praise from residents and drawing national attention for its successful turnaround. The results at Hamilton Crossing in the city of Ypsilanti are attributed in part to a program that supports residents' efforts to become self-sufficient.
A mix of market-rate and subsidized housing, the 144-unit complex was honored at the Affordable Housing Tax Credit Coalition's Annual Charles L. Edson Tax Credit Excellence Awards ceremony in Washington on June 11. Owned by the Ypsilanti Housing Commission, Hamilton Crossing won in the Housing and Urban Development Preservation Properties category.
The Housing Commission purchased the formerly blighted property, then Parkview apartments, from the U.S. Department of Housing and Urban Development in 2010. Renovation – including new roofs, windows, drywall, doors and kitchens – began in 2012 and was completed in May 2013. Decks, patios, front porches and children's play spaces also were added. Today, Hamilton Crossing, with its own Neighborhood Watch program, is a safer place to walk and play.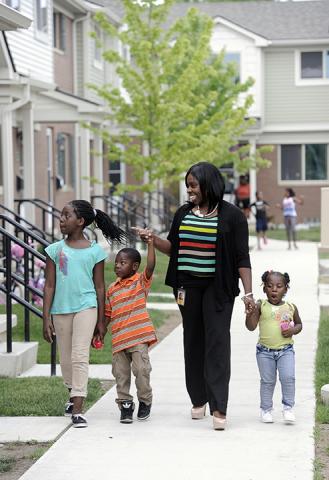 "Hamilton Crossing is beautiful. It no longer looks like subsidized housing," says Zachary Fosler, executive director of the Ypsilanti Housing Commission. The complex is fully occupied and has a waiting list.
Kristen Banks agrees. "The community has changed drastically. Homes have changed, inside and out," says Banks, who grew up in Ypsilanti and is one of Hamilton Crossing's original residents. An advertising consultant at Infinity Contact in nearby Ann Arbor, Banks is the mother of 9-year-old daughter Ari'yanna, 4-year-old son Jayden and 2-year-old daughter Dasani.
One of Hamilton Crossing's strengths is its Family Empowerment Program led by Eastern Michigan University, she says. The mandatory program provides a variety of services to the 200 adults and children who live in the complex's 70 subsidized units.
"Eastern Michigan has been a partner on this project for several years, working with local and county government, the United Way of Washtenaw County and community groups to create the Family Empowerment Program," says Russ Olwell, director of Eastern's Institute for the Study of Children, Families and Communities. This public-private partnership has involved many entities, including the Michigan State Housing Development Authority, Washtenaw County Office of Community and Economic Development, Chesapeake Community Partners and Great Lakes Capital Fund.
The Family Empowerment Program is supported by a $250,000 grant from Kresge's Human Services Program. Kresge works to expand opportunity for low-income people in America's cities. Its Human Services Program strengthens multiservice human services organizations that improve the quality of life and economic security of low-income people.
A 2014 survey of Family Empowerment Program participants who lived at Hamilton Crossing for at least a year showed residents:
Observed less crime at Hamilton Crossing than in their former neighborhoods.
Worked more hours per week and earned more after moving into Hamilton Crossing, resulting in decreased rent subsidies.  
Had better access to primary health care.
Used emergency rooms less frequently.
Were confident in their ability to use and maintain their computers for employment and education purposes.
Expressed interest in saving money, especially for a house.
Each family has a computer and free Internet access, which help them apply for jobs and attain educational goals. More than 70 percent of the residents in subsidized units are employed, a much higher rate than in neighborhoods only a few blocks away. Hamilton Crossing offers childcare scholarships to help parents while looking for employment or pursuing education. The Family Empowerment Program also has worked with the local educational organizations to register eligible residents for Head Start and other free preschool resources.Hamilton Crossing residents set up employment goals as well as educational and health goals for themselves and their children, Olwell says. Programming to eliminate barriers to success is identified through twice-a-year surveys of residents and third-party research.
Banks, who previously worked part-time at a fitness center, is among the residents who have found better paying positions. She landed her current job within four weeks of moving into Hamilton Crossing.
Residents make a commitment to attend monthly workshops that help them advocate for themselves and their children. Recent workshops included signing up for early childhood education, cardiopulmonary resuscitation training through the American Red Cross and a Safe House program on domestic violence.
Olwell says in addition to paying for residents' computers and childcare subsidies, the Kresge grant enabled Eastern Michigan to hire Marquan Jackson, a licensed social worker, to direct the program. Undergraduate and graduate social work students assist him in developing programs and working with participants.
"This is experiential learning at its best," Fosler says. "University students working with the Family Empowerment Program gain hands-on, real world experience and perspective in their areas of study. Residents benefit from the services they are connected to and likely even from regularly interacting with individuals who place a high value on education."
The empowerment program encourages residents to save to reach their goals through individual development accounts. Every $1 in earned income a resident deposits in the account is matched with $2 to purchase a home, start a small business or advance his or her education.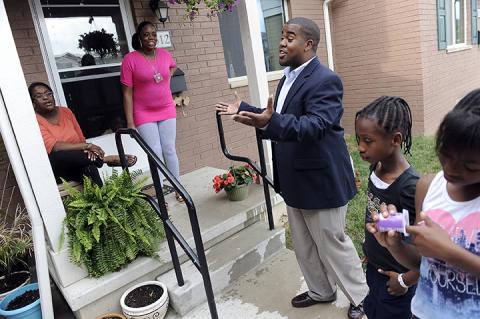 "In five years we want all our heads of households to have moved from a job to a career," says Jackson.  
Jackson partners with many nonprofits, including community health clinics. "I want all our families to have a physician so they don't have to go to the emergency room for routine health care," he says.
Jackson believes childcare is a key: "If you're paying out as much in childcare as you are earning, there is little opportunity for self-gratification from your work," he says. "Childcare support can be a real game changer."
The empowerment program also sponsors traditional activities like Boy Scout and Girl Scout troops, tutoring, summer camp, a community garden and holiday parties. Recently the program introduced family photographs. "When money is tight, capturing memories can be difficult," Jackson says. "We hired a professional photographer. Each of our families came in for a photo shoot and took home their photographs. The feedback has been great."
That multiservice, "wraparound" approach is consistent with Kresge's strategy of investing in efforts that are cross-disciplinary and cross-sector, says Guillermina Hernandez-Gallegos, managing director of Kresge's Human Services Program. "Those kinds of partnerships provide powerful mechanisms for creating permanent pathways out of poverty.  The aim is to ensure people have the opportunity to lead self-determined, productive lives." 
Fosler, Jackson and Olwell believe the Family Empowerment Program could be a model for other communities, including Ypsilanti's other subsidized housing. 
"I think it is a powerful model. It generates results for families and builds a commitment for education and employment," Olwell says.