Summer at Kresge: Environment program fellow looks to focus on climate change
"Aanii," which means 'hello,' is how Marie Schaefer most commonly greets people. It's one of the many ways she incorporates her Anishinaabe culture into her role as the Environment Program summer fellow.
Originally from Ann Arbor, Michigan, Schaefer attended Eastern Michigan University, where she completed an undergraduate degree in cultural anthropology. Schaefer then went on to Northern Arizona University to attain a master's degree in applied anthropology.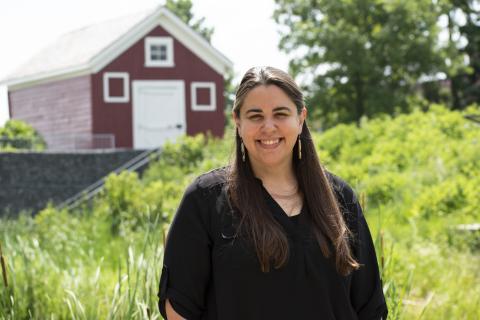 Before her summer at Kresge, Schaefer spent three years working at the Sustainable Development Institute (SDI) at the College of Menominee Nation in Wisconsin. At SDI, Schaefer was responsible for coordinating all research conducted related to climate change.
"The Menominee Nation has its own model of sustainable development," she said, "that includes six dimensions of what sustainable development means to them. The research institute focuses on anything that intersects two or more of those dimensions."
While working at SDI, Schaefer was also a graduate fellow with the USGS's Northeast Climate Science Center. There, she led trainings for climate scientists to learn how to collaborate with tribes, and she was also responsible for conducting climate change scenario planning workshops.
"We used it as a tool when working with different tribes," she said, "as a way for tribal members to think more holistically about the role they play in adapting to climate change."
After her time at the research institute, Schaefer returned home to finish her doctorate in community sustainability at Michigan State University. She transformed her work at the institute into a graduate assistant position at MSU.
"At MSU, I continued coordinating climate change grants," she said, "the largest one being from the USGS Northeast Climate Science Center, as well as one for the National Oceanic and Atmospheric Administration." 
In the summer of 2017, Schaefer was chosen for the University of Michigan's and the Environmental Grantmakers Association's Environmental Fellows Program.
Through the fellowship, she was placed with the Wege Foundation and the Grand Rapids Parks and Recreation Department. There, she had the opportunity to learn first-hand the essential role foundations can play in dealing with systemic environmental issues.
"I'm hoping my fellowship with Kresge will allow me to build on those lessons and gain a greater understanding of the role foundations have in combating important environmental issues," she said.
This summer, she will assist the Environment Program in exploring how it can go deeper in work with indigenous communities in urban areas.
Schaefer's largest project this summer will be creating an interactive map that displays current environmental grant funding across the U.S.   
"At Kresge," she said, "I would most like to learn what the private foundation world is like and how I can help it impact change at a systems level."