Summer at Kresge: Education fellow excited to assist under-represented students
Editor's note: The foundation is hosting nine summer interns or fellows this year from colleges across the U.S. Check back each week to learn about these rising social sector leaders in this series, Summer at Kresge.
As a child of formerly undocumented and immigrant parents, Alejandra Acosta quickly came to know how important education can be for this country's undocumented students.
Her mother came to America from Mexico as a child and started school without legal status. She eventually went to community college and on to a bachelor's degree, then to law school and is now a lawyer and a United States citizen.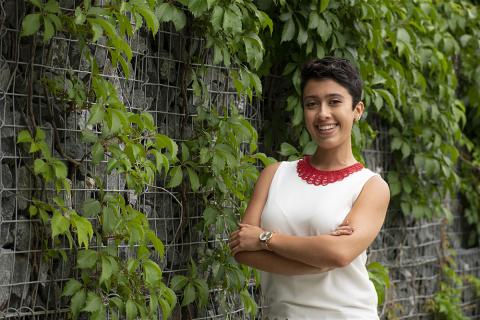 "I've always been taught to be proud of my culture and my heritage," said Acosta, now a fellow with Kresge's Education Program. "I knew that I wanted to help students, undocumented students in particular, after seeing that education really made a big difference in my family's lives."
As a summer fellow, Acosta will gain perspective and a behind-the-scenes look at how Kresge works to improve postsecondary attainment for under-represented students across the U.S. and in South Africa.  
Originally from Silicon Valley, Acosta is currently a master's student in higher education at the University of Michigan with a concentration in diversity and social justice. She first began her work in education as a college adviser through the University of California, Berkley. In that role, she guided many students through the college application and admissions process.
"While I was there, I started a club for the undocumented students. I also started a professional development training for staff on how to interact with undocumented students and be an ally."
Acosta has certainly found her niche. Assisting undocumented students throughout their journey in the education system is her career focus. While studying at Michigan, she also serves as a research assistant at the National Forum on Higher Education for the Public Good, where she researches policies affecting undocumented students in Michigan public colleges and universities.
Coming to Kresge has allowed her to address education issues in a different way. Much of Acosta's work will align with her long-term goals of entering the policy and nonprofit sectors. This summer she will be assisting in writing a request for proposals for projects that address transportation issues for college students.
"We collaborate with a lot of really big thinkers here," Acosta said, "and being able to be at the table with them is really important to me because I don't go to the table by myself, I bring my whole community with me."