Summer at Kresge: Detroit summer fellow putting her passion to work for her favorite city
Born and raised in the Detroit suburb of Huntington Woods, Alissa Graff has always had a special place in her heart for the city and came to The Kresge Foundation excited to get to work as the 2018 Detroit Program summer fellow.
Even during her undergraduate days at Hampshire College in Massachusetts — where she crafted her own degree in international relations and urban studies — Graff focused her final thesis on Detroit and its post-bankruptcy changes.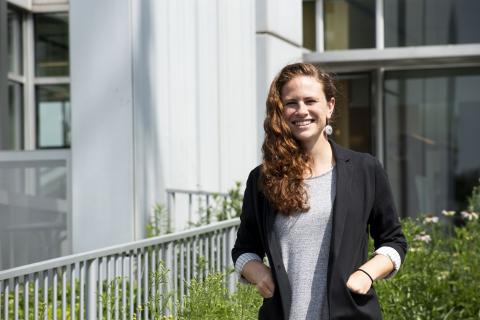 "That really got me interested in public policy," Graff said, "because I noticed the activist community in Detroit was as vocal as possible and helped move the needle, but you also need people in policy who want to listen and make changes at that level."
Now a master's student at the University of Michigan Ford School of Public Policy, she commutes from the Brush Park neighborhood of Detroit to Ann Arbor, so she can remain in the city and keep learning from it.
For the six weeks leading up to her fellowship, Graff interned at the Detroit Housing and Revitalization Department, where she closely focused on her passion of housing policy.   
Graff previously interned at Detroit Future City, a nonprofit Kresge partner committed to advancing the quality of lives of Detroiters. There, she witnessed the magnitude of Kresge's impact on the city.
"I have a significant interest in the philanthropic sector," she said, "because it has the ability to choose who it is funding and, in turn, increase capacity for nonprofit organizations to do important community-based work."
Graff will gain more experience with philanthropic work through her projects, including starting a program evaluation process for Kresge Innovative Projects: Detroit, supporting the foundation's early childhood initiative and assisting in the coordination of the summer intern project centered around housing and the Strategic Neighborhood Fund in Detroit.
"I'm looking to get a better idea of how an organization like Kresge operates both nationally and in such a place-based manner, specifically in Detroit, because it is such a unique position to have," Graff said.
Her most significant goal for the summer is to learn as much as possible from the private philanthropic sector. She's eager to see where Kresge's cross-team work — when multiple programs work together on an issue or grant — can happen and how initiatives can be rooted in a community's values.
"Mainly, I want to better understand the role of the philanthropic sector in Detroit," Graff said, "and how it connects across the other sectors working to serve Detroit residents."