Summer at Kresge: American Cities Practice fellow looks forward to playing her role in cross-sector partnerships
Editor's note: The foundation is hosting nine summer interns or fellows this year from colleges across the U.S. Check back each week to learn about these rising social sector leaders in this series, Summer at Kresge.
Lillie Carroll is no stranger to hard work, which is why she is more than ready to make her mark as the fellow this summer with Kresge's American Cities Practice (ACP).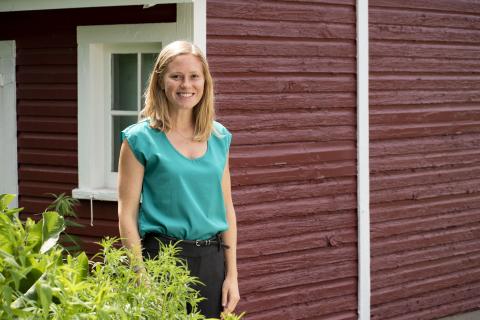 Carroll was born and raised in Miami but comes to Kresge most recently from Cambridge, Mass., where she is pursuing a joint Master of Business Administration and Master of Public Administration degree at MIT Sloan School of Management and Harvard University's John F. Kennedy School of Government.
Carroll cites the main focuses of her work as economic inclusion, workforce development and urban innovation.  
"In pursuing a joint degree, my interest is in how to get different sectors and stakeholders, whether they be private or public, to work together more effectively to  create cities that work for everyone." Carroll said.
She says this interest is what lead her to Kresge and ACP and its partial focus on cross-sector collaborations to promote equity.
Prior to her time in Cambridge, Carroll completed her undergraduate degree in cultural anthropology at Duke University, where she began to see the importance of how people relate to their surrounding environment.
Following her time in undergrad she traveled to India through the IDEX Fellowship in Social Enterprise. There, she worked with a low-income school and a social enterprise start-up to learn more about how different systems – from education to health – can interact more effectively to support low-income people.
After her time in India, Carroll went to work for Ernst & Young in their Human Capital Consulting Practice in Atlanta and New York City. After her time at EY, Carroll internd with REDF where she focused on workforce development  and social enterprise. 
Her greatest goal for her time at Kresge is to further the work within those areas.
"I believe that community development strategies should emerge from the community," she said, "and be driven by the community, so I really appreciate how Kresge takes a place-based approach in its community development work."
Carroll says the most exciting part of her internship will be getting to participate in and see the work firsthand.
"I've done a lot of research about Kresge's work in Detroit and about these cross-sector partnerships in other cities," Carroll said. "But I haven't gotten to see them on the ground yet, and I'm looking forward to seeing it in action."
Her primary project this summer supports the Shared Prosperities Partnership (SP2). Through SP2, the Foundation plans towork with local leaders and national ocmmunity development partners to identify  and advance solutions ot address economic inequality in cities across the United States. Carroll will work to develop profiles on potential cities that the Foundation, with its partners, could expand its SP2 work to.  
As for the future, Carroll isn't sure which sector she sees herself in but knows this summer will be a learning experience that will help her clarify what's next.
"At some point, I'm sure I'll work in a nonprofit organization," Carroll said. "So, understanding what kind of considerations a foundation makes in their funding decisions will be really helpful."