Study finds for-profit colleges have strengths, but cost questions are raised
Public Agenda research, backed by Kresge, polls students and employers.
Many students and employers remain unconvinced about the value of a for-profit college education, according to new research from Public Agenda. Although for-profit students are largely satisfied with the quality of their schools, many consider the financial burden of these schools high, and it is unclear to them whether that cost will pay off.
Both currently enrolled undergraduates and alumni of for-profits praise their schools on many counts, including having caring instructors, efficient programs and small class sizes. However, they're anxious about the cost of their education. Alumni in particular are skeptical about the value of their degree, with 32 percent saying their degree "really wasn't worth it." Some 32 percent say the value of their degree "remains to be seen," and 37 percent say their degree was "well worth it."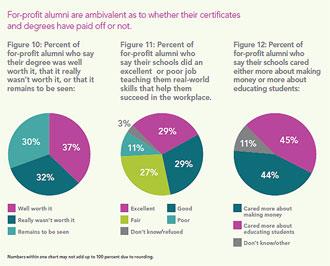 "We acknowledge that we spoke with for-profit alumni during a down job market, which may have an effect on their perspective. In fact, for-profit alumni who are working for pay are twice as likely to say their degree is worth it, compared to those who are unemployed," says Carolin Hagelskamp, director of research at Public Agenda and lead author of the report, "Profiting Higher Education? What Students, Alumni and Employers Think About For-Profit Colleges".
Nevertheless, she says, "it is certainly the case in this study that many graduates from for-profit schools put some blame on their schools for not adequately preparing them for the job market."
Data from employers regarding their attitudes toward for-profit schools don't offer much to assuage the anxiety. Many employers perceive no differences between for-profit and public-sector institutions. Among those who do see a difference, most view public schools as superior on a number of counts. In focus groups that accompanied the survey research, employers tended to favor traditional institutions; many said that they'd prefer to hire a candidate from a reputable state school versus one from a for-profit school.
For-profit colleges serve about 13 percent of the undergraduate population and dominate higher education advertising. In policy circles, the sector has come under scrutiny for recruitment practices, low graduation and high student loan default rates, and questions about whether students are adequately prepared for the labor market. At the same time, the sector is lauded for being a source of innovation, increasing access for nontraditional students, and responding quickly to labor market demands.
"The for-profit sector warrants scrutiny, particularly on questions of cost and student recruitment, but it's also clear that these colleges are responding skillfully to the needs of a significant number of America's students," says Will Friedman, president of Public Agenda.
The research was funded by The Kresge Foundation's Education Program. Kresge works to expand opportunity for low-income people in America's cities. Its Education Program promotes postsecondary access and success for low-income, first-generation and underrepresented students.   
Public Agenda is a nonprofit organization that helps foster progress on higher education affordability, achievement gaps, community college completion, use of technology and innovation and other higher education issues.
See a summary of the findings.
The new publication concludes a series of three reports on issues and populations in higher education, funded Kresge. Other reports in the series are Not Yet Sold: What Employers and Community College Students Think About Online Education and Is College Worth it For Me? How Adults Without Degrees Think About Going (Back) to School.