Study finds greater New Orleans health and human services nonprofits struggling
Kresge Human Services Program-funded work points to steps to help stabilize service providers
Nonprofit organizations in the New Orleans metropolitan area rallied to assist area residents after Hurricane Katrina in 2005 and the BP Deepwater Horizon oil spill in 2010. Now these safety-net providers face an uncertain future.
A new study finds that the prolonged economic recession, higher demand for services and anticipated cuts in government funding pose challenges to health and human-services public charities. The study funded by The Kresge Foundation concludes that nonprofits need new sources of sustainable funding and capacity-building assistance to support their efforts to revitalize communities and provide programs and services to those in need.
Conducted by the Urban Institute's Center on Nonprofits and Philanthropy and funded by Kresge's Human Services Program, the study looked at 444 health and human-services nonprofit organizations in greater New Orleans. That sample excluded hospitals and higher education.
The report, "A Profile of Nonprofit Organizations in the Greater New Orleans Metropolitan Area," provides residents and policy makers with a framework for addressing the capacity-building needs of the sector and investing in its infrastructure.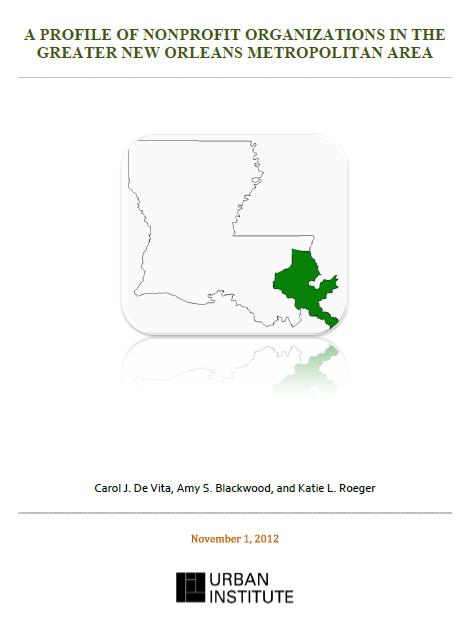 "Many small, local groups are run by people who draw on their personal and organizational resources and time to stand in the breach during a crisis," says Matthew Mullenix of the Louisiana Association of Nonprofit Organizations. "This makes these nonprofits incredibly vulnerable, however, because they quickly exhaust their immediate resources and leverage to the hilt to continue and expand their missions."
The influx of federal disaster relief, private funding and overseas donations galvanized recovery efforts following the Katrina and BP disasters, but cash and other resources tapered off as funders and donors turned their attention to other crises.
"We found many nonprofits are working on modest budgets and face a tough time getting the financing to support their services," says co-author Carol De Vita, a senior fellow at the Urban Institute. "These organizations rely heavily on government funding, which is expected to shrink in the next few years. Depending on the extent of the budget cuts, it may be difficult for nonprofits to raise that shortfall amount from private sources."
The study finds:
In 2010, the typical, or median, service provider's budget was just $236,000. The average, skewed upward by a number of large organizations, was $1.3 million.
More than half of the health and human-services public charities received some type of government funding, which constituted about 65 percent of the respective organizations' revenue.
One in five health and human-services providers has not yet recovered to pre-Katrina operating levels.
Roughly one quarter of the nonprofits surveyed are still using disaster-recovery funds to support their operations, but that money is likely to run out soon.
The report suggests the nonprofit sector would benefit from technical assistance and training to bolster grant-writing and fundraising skills, increase computer and technology usage and drive improvements in organizational structure and efficiency.
The study also documents a demographic mismatch between nonprofit leaders and constituents. Health and human-services chief executives are predominantly non-Hispanic whites, according to the findings, and do not reflect the racial and ethnic makeup of the communities served. To address the lack of diversity, the authors say, the region's nonprofit sector might want to develop leadership programs for African Americans and Hispanics to prepare them for nonprofit executive and board positions.
In addition, all nonprofits need to focus on measuring performance and reporting outcomes, De Vita says. "Foundations, the government and individuals want to know how their money is being spent and what benefits are being derived from the dollars they invest. It's not enough to report the number of people who were helped or got jobs through a particular program. Funders want to know how many of those people achieved self-sufficiency and kept their jobs, so they no longer need assistance."