Strong Start to Finish, national initiative to improve developmental course success, launches today
Kresge joins Gates, Great Lakes in investing $13 million in scaling math, English reforms
The Kresge Foundation has partnered with two other leaders in higher education funding to launch Strong Start to Finish, a combined $13 million investment to scale practices designed to enhance student success in developmental English and math, so that more students will ultimately obtain a postsecondary credential.
SSTF's goal is to purposely increase the number of low-income students, students of color and returning adults who successfully complete English and math requirements in the first year of college and enter a program of study.
Currently, 40 percent of all undergraduates and 66 percent of community college students take at least one developmental course, but only 25 percent of those students graduate within eight years.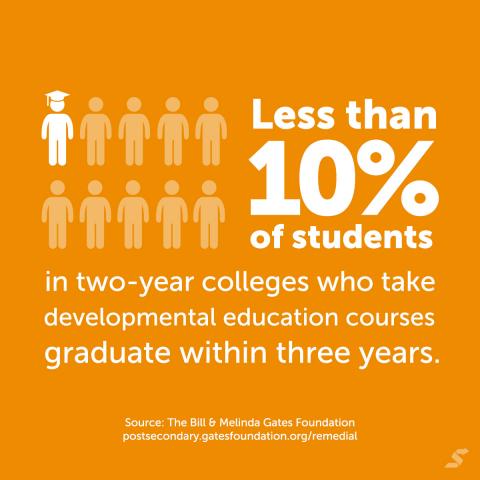 Advancing into credit-earning math and English courses is a proven indicator for whether students will earn a degree, license or certificate with labor-market value. Additional evidence shows when college students have a strong start in their first year, their success triples throughout their tenure, making them much more likely to graduate career-ready.
The Bill and Melinda Gates Foundation and Great Lakes Higher Education Cooperation & Affiliates are supporting the initiative along with Kresge.
"We know that early support and reforming developmental classes have a definitive positive impact on students' trajectory," says Bill Moses, managing director of Kresge's Education Program. "Now we want to take what we know and scale it, so we can help the largest number of students possible experience those results. This is a rare opportunity to increase collectively the number of students completing college, especially low-income, minority and other historically underserved populations."
Kresge, along with Gates and Great Lakes, have together previous invested more than $80 million for developmental education improvements. All three believe that evidence-based principles can change institutional practices and policy across the nation, leading to significantly broader student access.
Funding will be awarded during a three-year process through grants of up to $2.25 million to support work that puts proven education reforms into practice in key sites across the country.
SSTF is built on evidence-based design principles that include placing a clear majority of students directly into credit-bearing work with the support they need to succeed; ensuring that students' introductory English and math courses are both rigorous and relevant to their intended majors; and using modern data analytics to support students' academic decision making and the timely completion of their programs of study.
First round eligibility is limited to higher education systems, regions and metropolitan areas located in states where priority funders' work is currently focused—California, Florida, Georgia, Illinois, Minnesota, New York, North Carolina, Ohio, Texas, Washington and Wisconsin.
"All three foundations, and many of our nonprofit partners, have worked to identify solutions to the problem of developmental education," said Moses. "It's exciting for us to be working together to scale what we know works to serve students."
Read more on Strong Start to Finish on its website and read the press release announcing the launch.