Special issue of Health Affairs journal puts spotlight on the environmental factors at work in many health problems
Research and essays make the connections often overlooked by specialists, policy makers, and individual doctors and patients.
TROY, Mich. – Environmental health factors including toxic chemicals, air pollution and aspects of industrial agriculture play a role in almost 85 percent of illnesses, according to health experts.
Despite that, environmental factors are rarely discussed when people visit their doctors, and health concerns generally don't play a prominent role in public-policy debates about agriculture, energy, transportation or other activities that can influence health.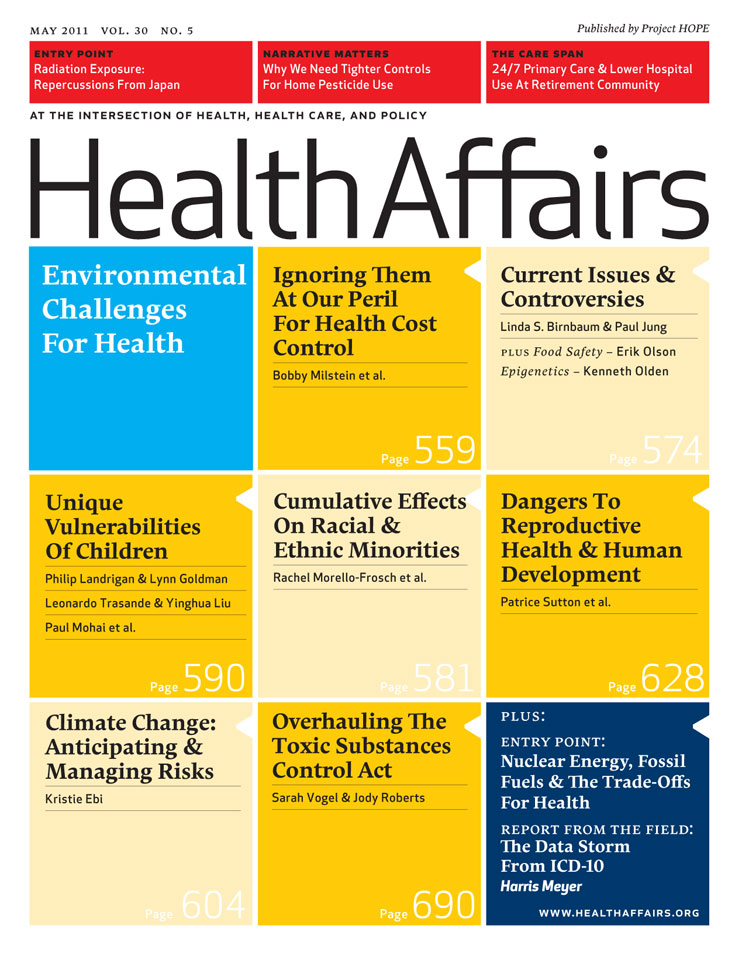 On May 4, a special issue of the journal Health Affairs will feature a wide range of research and essays in the realm of environmental health:
The health effects of climate change.
The impacts of diesel pollution near schools.
The dangers of pesticides, flame retardants, phthalates and other chemicals.
The failure of our regulatory systems to mandate safe and healthy food.
Supported by The Kresge Foundation, the special issue will inform current policy debates and feed the growing – but still nascent – public awareness of environmental health issues.
"You rarely hear the environment framed as a health issue," said David Fukuzawa, Kresge Health Program director. "There's a lot of the discussion about polar bears and weather events, but very little about what happens to people's health, especially people who are the most vulnerable – children, mothers, low-income people. Whether we're talking about chemicals or climate change, it will hit them first."
Health Affairs Editor-in-Chief Susan Dentzer hopes the special issue will help spark greater dialogue around environmental factors among experts in different health sectors.
"For strange and unfortunate reasons the field of health and health care gets very siloed," she said. "The public-health people and the clinical-health people rarely talk to each other, though that's changing and improving somewhat. There are doctors and hospitals taking care of people who are sick; there are public-health people thinking about broader hazards and prevention; and even they don't spend a lot of time with the environmental-health people who are concerned with whether we have clean water, clean food, sanitation, places where people can get adequate physical activity."
(Stories from the special issue appear online today. Additional stories will be posted Friday.)
The special issue's focus on chemicals is especially timely given current debate about revising the 1976 Toxic Substances Control Act. Advocates hope that federal law can be rewritten to better regulate the about 83,000 chemicals on the consumer market.
As Dentzer writes in an introduction to the journal: "The vast majority of these chemicals were already in use before the law was enacted, and under a bizarre Catch-22, the Environmental Protection Agency must demonstrate that any one of them poses an 'unreasonable risk' before it can actually test one for toxicity."
"It's been notoriously difficult to prove, beyond the shadow of a doubt, the linkage between chemicals and disease," added Fukuzawa. "But there's enough cumulative evidence about all these things that we should adopt a precautionary principle. Rather than waiting for the disaster to happen, let's presume something is dangerous. We need to consider these chemicals guilty until proven innocent as opposed to the current framework which is innocent until proven guilty."
John Froines, an environmental health sciences professor at the University of California, Los Angeles, said more research into the health impacts of diesel pollution is especially important given ongoing policy making about particulate matter and diesel engines. Particulate and diesel are a major focus of The Impact Project in Southern California, also supported by Kresge.
Regulatory efforts are focused on the mass of particles from diesel. However, Froines and other scientists believe that a larger number of tiny particles pose more of a hazard than fewer large particles.
"Everyone says air pollution has gotten better, but it depends what you study," he said.
People who already bear the brunt of environmental health concerns like air pollution and food insecurity are also most likely to be increasingly affected by climate change, as Health Affairs documents.
Rising temperatures and more intense storms are expected to have a wide range of health effects. Heat waves can be deadly for low-income people living in cities without air conditioning, especially if they have other health conditions. Rising temperatures and increasing intense rainfall – which also means more standing water and more flooding – are expected to increase the incidence of diseases transmitted by mosquitoes or spread through sewer system malfunctions.
"Increasingly we're beginning to understand climate change will have massive public health implications for conditions like asthma, for heart disease, for heat stroke and for the spread of infectious diseases," said Gary Cohen, founder of the coalition Health Care Without Harm, an international network of health care providers, environmental, labor and community groups and others. Health Care Without Harm has also received Kresge support.
Research published in the Health Affairs issue reveals that in Michigan, poor air quality near schools correlated with low attendance rates and test scores. Yet almost half the states in the country don't consider environmental factors when deciding where to locate schools.
In an essay in the special issue, a Washington writer and editor describes suffering terrifying neurological symptoms after having her house sprayed for fleas. While she doggedly pursued information about her condition, she worries about the millions of consumers unwittingly exposing themselves to toxic chemicals in common household products – especially in light of a bedbug epidemic that's likely driving more people to use pesticides.
"At the most basic level, consumers must receive more information about the pesticides being used in their homes," writes Sue Eisenfeld. "And they need regulatory backup protection."
Another article points out the simple cost-benefit equations related to environmental health. It typically costs far more to treat people once they've developed chronic or acute conditions related to environmental health factors than it would have cost to regulate, clean up or otherwise prevent the exposure.
"We're learning that it's increasingly impossible to support healthy people on a sick planet," said Cohen. "If we want to support healthy people and healthy communities we need to address these environmental health contributors to disease. Otherwise we will continue to have a health care system that is fishing people out of the river after they've been thrown in."