South African higher-education institutions see private giving increase threefold
Kresge-funded initiative strengthens four universities and a teaching hospital
In 2005, The Kresge Foundation launched on a five-year, $10.5 million initiative to build fundraising capacity in South African universities.
The Kresge Special Initiative in South Africa funded costs related to institutional development and fundraising including staff salaries and training. Working with a local partner, Inyathelo, the South African Institute for Advancement, the initiative provided technical assistance, mentoring, consulting, international staff exchanges and challenge grants.
Nineteen of South Africa's 23 universities sought to participate. Five ultimately took part: four universities and a teaching hospital.
"They raised a lot of money," says Kresge's Bill Moses, who leads the Education Program. "They raised more from individuals, and they were also raising it more strategically, more thoughtfully, more professionally."
As the initiative concluded in late 2011, Kresge commissioned a photographer to visit the institutions and a writer to talk with those who had taken part.
The result is this series of narrated slideshows.
The first, about four minutes long, looks broadly at the effort.
Subsequent presentations, each less than two minutes, relay what representatives of the five institutions told us about their growth. They range from practical accounts of attracting donations to pay for new scholarships and microscopes to the aspirational words of University of the Western Cape Rector Brian O'Connell who says a new life-sciences center "raises a new consciousness about what is possible for black South Africans."
The slideshows feature:
(For those who may prefer it, a text version appears below.)
(This week, Kresge President Rip Rapson announced the foundation would continue to invest in higher education in South Africa.)
Cape Peninsula University of Technology
University of the Western Cape
A text version of the slideshows:
For decades, the University of Witwatersrand closed itself off from the decaying urban neighborhood that surrounded it. Walls and fences still mark a physical divide between town and gown.
But spurred by the lessons of The Kresge Foundation's Special Initiative in South Africa, Wits, as the university is known, has become a partner in the neighborhood's resurgence. The university is building a new, R47 million ($5.8 million) art museum at the edge of campus where, as curator Julia Charlton puts it, "The university shakes hands with the city."
The project represents not just a new self-image at Wits, but a new way of doing big things at South African universities.
Advancement isn't just a euphemism for fundraising. It's about systematically putting things in place to attract resources – things like networks for alumni and outward-facing amenities like the art museum –that cause people to say "We like what you're doing and we want to be a part of it."
Working with its partner Inyathelo -- the South African Institute for Advancement – Kresge helped five higher-education organizations build their fund-raising capacity.
The five-year Kresge initiative included a $10.5 million commitment to help staff, train and strengthen advancement offices at four South African universities and a teaching hospital.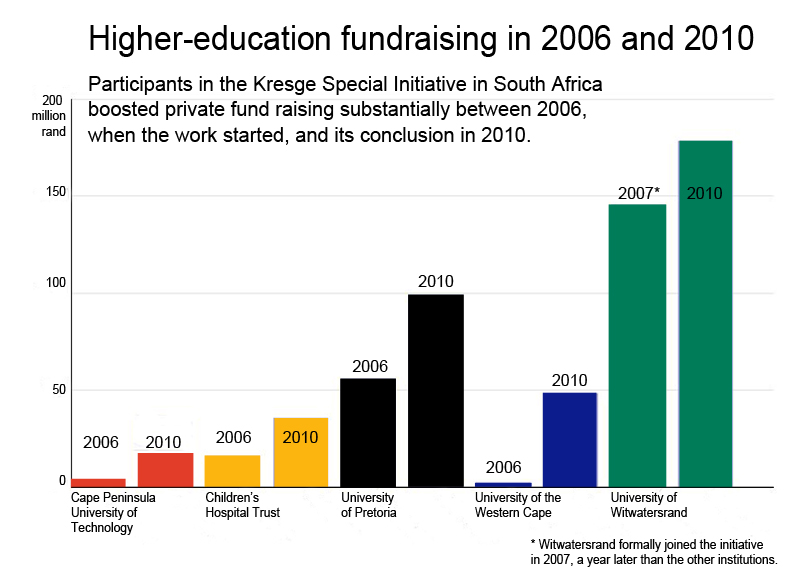 In 2006, the year the initiative began, the four original participants raised a combined of $11.8 million annually from their donors. By the conclusion of the initiative, in 2010, the four original grantees raised a total of $30.5 million – a threefold increase.
Through Cape Town-based Inyathelo, Kresge provided workshops, international exchanges, and consulting to each of the participating institutions. In addition to operating grants, each institution could earn bonus grants by meeting annual benchmarks.
The program began with four institutions:
Cape Peninsula University of Technology.
The Children's Hospital Trust, a teaching hospital for the University of Cape Town.
University of Pretoria.
University of the Western Cape.
Wits joined the program a year later.
The Kresge initiative helped participants grow and train their advancement staffs. Vice chancellors and governing boards were also involved and together saw the opportunities that could be created by tapping private wealth.
Five years
Kresge made a long-term commitment because it knew the participants would need time and space to make often-difficult organizational changes.
Now concluded, the initiative resulted in:
A community of trained advancement professionals.
A set of institutions that can act as role models.
And a group of university vice chancellors who understand how their role in advancement plays out in relationships with their cities, communities, local businesses and national government.
Here's a look at some of the work made possible in South Africa by Kresge and Inyathelo:
Cape Peninsula University of Technology
Two million children in South Africa go to school in multi-grade classrooms; it's a common feature in rural schools where there aren't enough students to set up conventional classes. Yet no African university offered training to help teachers manage these labor-intensive and planning-intensive classrooms. That left rural children, by and large, less likely to succeed in primary school and less likely to continue their education.
Cape Peninsula University of Technology put its advancement training and staffing behind this problem and landed a R22 million grant from the Royal Netherlands Embassy in Pretoria to establish the Centre for Multi-grade Education. That group develops curricula and resources for multi-grade classrooms, and trains and accredits teachers in multi-grade teaching.
Support through the Kresge initiative elevated the Cape Peninsula advancement staff to higher professional standards and helped them approach a higher-profile international donor. It also paid for additional training, like a negotiation course for the advancement officer who helped craft the grant proposal that resulted in establish of the Centre for Multi-grade Education.
The university, which hosted the first World Conference on Multigrade Education, has 800 teachers currently pursuing advanced certificates in multigrade education.
Children's Hospital Trust
The Red Cross War Memorial Children's Hospital is the only stand-alone children's hospital in sub-Saharan Africa and a major pediatric training hospital. It serves 250,000 patients a year – a third of them infants. Most are from poor and marginalized communities. The Children's Hospital Trust is the hospital's advancement arm. It pays for almost everything except building operations, salaries and maintenance, which are covered by the government.
Training and additional staff provided by the Kresge initiative helped the trust raise R125 million to build and equip eight new state-of-the art operating rooms – replacing four operating rooms built in 1956. Each is dedicated to a different surgical specialty.
The trust increased donations from corporations and foundations, and in particular from individuals through its Guardians Programme.
"The idea was always that collectively Guardians funding would be allocated toward special projects within the hospital," says Jenee Stammer, who manages theChildren's Hospital Trust Guardians Programme. "It was intended to allow our Guardians to feel that their contributions, though at times small by comparison with the nature of hospital projects, were significant as the combined efforts resulted in large impact donations to these projects."
Funds from the Guardians bought a microscope and surgical equipment for ophthalmologists and also purchased equipment for surgical and burn wards.
University of Pretoria
With some 44,000 students on campus, the University of Pretoria is one of South Africa's largest residential universities. That translates into a large alumni base, but not necessarily a lot of alumni donations. South Africans typically expect the government to fund universities.
So UP used the Kresge initiative to begin changing that culture. The alumni office added seven staff members, almost tripling its original size. That allowed the office to improve – and nearly double the size of – its alumni database and maintain personal contact with VIP alumni and specific interest groups.
The department also created a Pre-alumni Program designed to build lasting relationships with students as early as their first year on campus.
The University of Pretoria alumni group had representatives at 56 different student events – everything from orientation to special lectures to concerts and soccer matches. The program established alumni representatives within each of the university's nine colleges.
Relationship-building is a long, slow process, but it's already helped the university increase alumni donations from R3.4 million in 2006 to R6.5 million in 2010. Most of that money funds scholarships.
"The impact of additional staff cannot be over emphasized," says Elmarie Liebenberg, head of Alumni Relations at UP. "The Kresge grant made it possible to create a position for on-campus development and this has enabled us to launch and grow the pre-alumni initiative, which plays a vital role in ensuring that graduates become informed and loyal alumni when they leave the university."
University of the Western Cape
The University of the Western Cape was a leader in the intellectual struggle against apartheid – in 1987 Archbishop Desmond Tutu became its chancellor. Yet as a historically black institution it lacked a dedicated science building – Africans weren't trained for science professions under apartheid ideology.
UWC used its grant and Inyathelo training to build an advancement office that grew from five to 19, and now covers all those salaries.
Empowered by Kresge's support, the department raised R550 million to build a massive life-sciences building to train the scientists who will figure prominently in South Africa's future. Six stories high and more than two football fields long, the facility stands in the middle of UWC's Belleville campus.
When apartheid ended, South African cities were flooded with people looking for work, housing and a better life. That created tremendous strain on a physical and social infrastructure built to provide that life to just 10 percent of the population.
"Our cities have grown astronomically," says UWC rector Brian O'Connell. "We've got to get the science and technology up and running so we can model for our students what the future must hold.
"We can do this stuff. Science is not somebody else's province. We can be brave and confident, and our brothers and sisters can feel pride in this incredible building on the main road. It raises a new consciousness about what is possible for black South Africans."
University of Witwatersrand
The new Wits Art Museum, slated to open in June, stands near the intersection of two major downtown routes. The new building will have a public entrance on the "city" side – a shiny, modern open door to the community.
"It is envisioned that the museum will be used by all university art stakeholders, plus schools, tourists, and the wider art-loving community," says Martha Molete, manager of Wits Capital Campaign. "And the beautiful building is also a major contribution to the regeneration of the inner city."
Before 2006, fundraising at Wits was fragmented, decentralized and not very highly regarded. The university had just begun to formally change its approach – appointing a deputy vice chancellor for advancement and partnerships – when it formally joined the Kresge initiative at the end of 2007.
With Inyathelo's guidance, Wits established a Division of Advancement and Partnerships in 2008. The division added staff and unified the efforts of alumni relations, development, marketing, communications, fundraising, public relations, events and partnerships – putting the full force of the university's outreach departments behind the new deputy vice chancellor. The museum capital campaign, Molete says, has been a great example of all these departments working together behind focused leadership.
Wits, more than any other participant, embraced the idea of capital campaigns; in its final year of the grant the university took advantage of government seed grants and launched five major campaigns to support new buildings.
Looking forward
In April, 2012, Kresge announced it was renewing its commitment to South African higher education.
The foundation expects toinvest about $3 million a year (R20 million) beginning in 2012 and concluding in 2018.
Dubbed "Promoting access and success at South African universities," the new commitment builds on Kresge's commitment in South Africa and aligns with its work in the United States to improve access to higher education and help students succeed academically.