San Francisco nonprofit helps Latino families navigate road to self-sufficiency, economic security
Mission Economic Development Agency and community partners employ holistic approach to deliver human services.
Financial security is a universally complex goal. For many it's a goal that seems out of reach. In San Francisco, Mission Economic Development Agency and its 26 community partners are helping thousands of low- and moderate-income Latinos reach their financial goals and achieve self-sufficiency.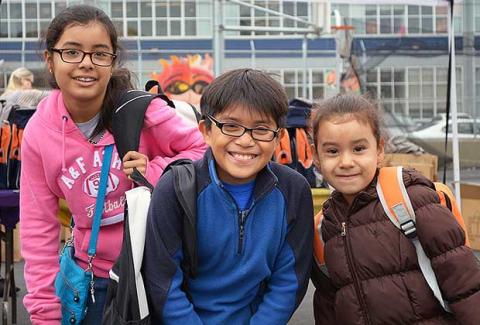 Photo: Mission Economic Development Agency
About 15 percent of San Francisco's more than 805,000 residents are Hispanic or Latino.They face many challenges: among them is the lack of affordable housing, language barriers and limited job opportunities. According to one estimate, half of Latino adults in the Mission District don't have a traditional banking relationship and must rely on check-cashing stores and other alternative, too-often predatory lenders.
Mission Economic Development Agency and its partners offer a complement of integrated services – all free. There are classes and counseling to raise income, increase savings, reduce debt, improve credit scores and complete income tax forms. The agency also offers digital literacy classes, bilingual computer training, job training, one-on-one coaching for business entrepreneurs and cradle-to-college educational services. Family success coaches work in four schools to reach parents and link family economic security to student achievement.
A $500,000 grant from Kresge's Human Services Program allows the agency and its partners to:
unify staffing
link financial education to direct service delivery
provide a holistic look at clients' needs
evaluate programmatic outcomes
"With increased client demand and a shrinking social safety net, we look to organizations like MEDA to show the sector how to best facilitate financial security among those who are struggling," says Kresge's Guillermina Hernández-Gallegos, managing director of the foundation's Human Services Program.
The grant reflects Kresge's commitment to expand opportunities for low-income people in America's cities.
Plaza Adelante, 2301 Mission St., located in the heart of the Mission District, is a community gathering spot and entertainment venue. The 41-year-old Mission Economic Development Agency opened the 21,000-square-foot neighborhood center in 2010. Centrally located, it encourages collaboration among MEDA's human resource partners, increasing the likelihood clients will learn about and tap into multiple opportunities. Partners include the City College of San Francisco, La Raza Centro Legal, San Francisco Head Start, San Francisco Unified School District and United Way of the Bay Area, among others. Most are within walking distance of Plaza Adelante – an essential feature for a clientele often without access to transportation.
Mission Economic Development Agency has demonstrated that multiservice organizations can expand financial opportunities for people with low-incomes, even during significant downturns in the economy, Hernández-Gallegos says. 
José Cisneros, treasurer of the city and county of San Francisco and a financial justice champion, agrees. "They have been great partners in bringing financial access to people in San Francisco. During the recent recession, I witnessed them doing the best work in the city on foreclosure assistance."
Client's success story begins with a class
Patricia Torres, a 50-year-old one-time waitress and mother of two, is among those benefiting from service integration. Like 65 percent of Mission Economic Development Agency clients, she is an immigrant. Initially a social media class attracted Torres to Plaza Adelante, where she noticed a sign about another class for people starting a business. She enrolled and soon was learning about marketing, accounting, licenses and permits.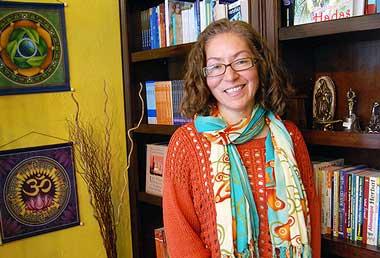 Photo: Mission Economic Development Agency
Torres also worked one-on-one with Mission Economic Development Agency business developer Jim Escobedo on a business plan for a kiosk to sell teas, medicinal herbs and nutritional supplements. Alternative therapies had helped her son, Omar, 25, who suffers from autism, hyperactivity and attention deficit disorder, and Torres believes others can benefit.
In 2010, Torres launched Mystical Collections, one of the first businesses in Plaza Adelante's El Mercadito, a mini-market that includes a Peruvian diner, jewelry store and gift shop. She also received $1,500 from the Mission Economic Development Agency, which she pooled with personal savings and a $20,000 business loan. Escobedo worked with suppliers to help Torres get started.
"You need guidance," Torres says. "You need someone to push you and give you confidence in yourself. Jim was a very good mentor."
Today Torres sells holistic products and offers massages and yoga classes from her new, larger store on nearby 24th Street. "Business is going well," she says. "I love my store.  I feel I was born to be here."
School-based program links economic security, academic success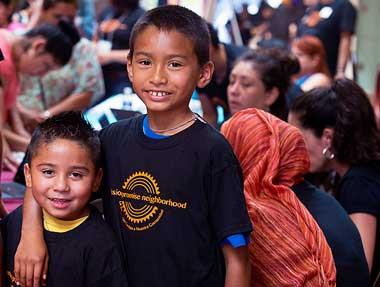 Photo: Mission Economic Development Agency
The development agency also is a catalyst for community-based programs like Mission Neighborhood Promise, launched in 2013 to help children from low-income Latino families succeed in school. In 2011, the Mission District had the highest concentration of Latinos in San Francisco, and poverty rates for children were 50 percent higher than the city average. Latinos had a 60 percent high school graduation rate compared to the city's 86 percent overall average.
Today more than 1,600 students attending Cesar Chavez Elementary, Bryant Elementary, Everett Middle School and John O'Connell High School participate in the federally funded Mission Promise Neighborhood program, which links family economic security with student academic achievement and offers cradle-to-college-to-career services.
Family success coaches work in Mission Promise Neighborhood schools each day, informing students and their families about resources to help them succeed, says Christopher Gil, Mission Economic Development Agency senior content marketing manager.
Due largely to the promise neighborhood initiative, Mission Economic Development Agency's clientele grew from 1,224 in 2008 to 5,094 in 2013. Staff increased from 12 to 65, and the agency's budget expanded from $1.6 million to $9.2 million during that period.
Tech-Net expands Latinos' opportunities nationally
Working with the San Antonio, Texas-based National Association for Latino Community Asset Builders, The Mission Economic Development Agency is empowering Latinos elsewhere through Latino Tech-Net. Latino Tech-Net has provided computer access and bilingual computer training to more than 15,000 low- and moderate-income Latinos and has created more than 1,600 jobs in 11 states.  
"We are constantly asking ourselves the existential questions, 'Who are we?' and 'What are we doing?'" says MEDA Executive Director Luis Granados, winner of the San Francisco Foundation's 2014 Robert C. Kirkwood Award for outstanding community service, commitment and inspired leadership. "We're not the organization in 2014 we were in 2013."
To continue to improve, the agency's evaluation team studies client data and program outcomes and shares findings with its partners. For Granados and his staff, the information is critical to streamlining processes and fine-tuning the practice of bundling services to make client interactions effective, efficient and appropriately tailored to need.
"Mission Economic Development Agency is constantly reexamining its effectiveness, relying on an evidence-based approach to decision making. They are helping their clients achieve financial security," Hernández-Gallegos says. "We believe conclusions drawn over time based on its ongoing evaluation efforts will become increasingly valuable to the agency and its clients, funders and other multiservice human service organizations."