Regina R. Smith to lead Kresge's Arts & Culture Program
Regina R. Smith has been named managing director of The Kresge Foundation's Arts & Culture Program, President and CEO Rip Rapson announced today, following an extensive national search.
Smith has been with the Foundation since 2008 as a program officer and senior program officer, working to advance the deliberate integration of arts and culture into community development through creative placemaking. She has been interim managing director of the Arts & Culture Program since July 2015.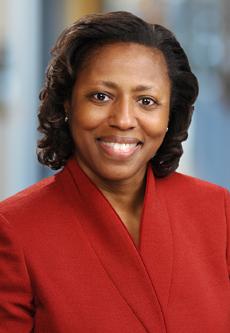 "Regina has helped elevate Kresge as a national leader in creative placemaking, working as effectively with grassroots arts and community organizations  as with national partners like ArtPlace and the NEA to expand opportunities," said Ariel Simon, vice president and chief program and strategy officer. "Her enthusiasm, dedication and vision have expanded the boundaries of our work, she is a deeply respected thought leader in the field, and she has and will continue to shape a program that makes arts and culture a central element of equitable community development in cities across the country."
Rapson said Smith has been an integral part of pioneering work in the arts and culture field, including expanding the program to include more cross-team work and efforts to unlock alternate forms of capital for creative placemaking projects:  "We're thrilled with the direction and momentum of the Arts & Culture Program, and gratified that Regina has chosen to further this important work at The Kresge Foundation."
Kresge's Arts & Culture Program focuses on creative placemaking, a comprehensive community development approach that embeds arts and culture in stabilizing disinvested communities. It recognizes that arts and culture are an integral part of life and, when embedded in cross-sector revitalization activity, contribute to positive and enduring economic, physical, social and cultural change in communities.
"I am honored and excited to lead Kresge's efforts to ensure that the arts and cultural expression play vital roles in community development for low-income neighborhoods in America's great cities," Smith said.
Previously, Smith worked at the Arts & Science Council in Charlotte, N.C., where, as vice president of grants and services, she managed a $12 million grants portfolio. She served as programs and services director at Culture Works in Dayton, Ohio, from 1994 to 1999 and, earlier, managed a nationally recognized program for the Indiana Arts Commission.
In 1989, while on a nine-month Arts Administration Fellowship, Regina was in residence with three arts organizations: the Madison Art Center, COMPAS in St. Paul, Minn., and Chicago's Department of Cultural Affairs. She began her career as a museum educator at the Cleveland Children's Museum and the Cleveland Museum of Art.
Smith studied art history at the University of Pittsburgh and received a master's degree in arts administration from Winthrop University in Rock Hill, S.C.