"Real Work for Real Pay" Enables the Blind in North Carolina to Achieve Independence and Self-sufficiency
Winston-Salem Industries for the Blind builds new programming space and fundraising capabilities.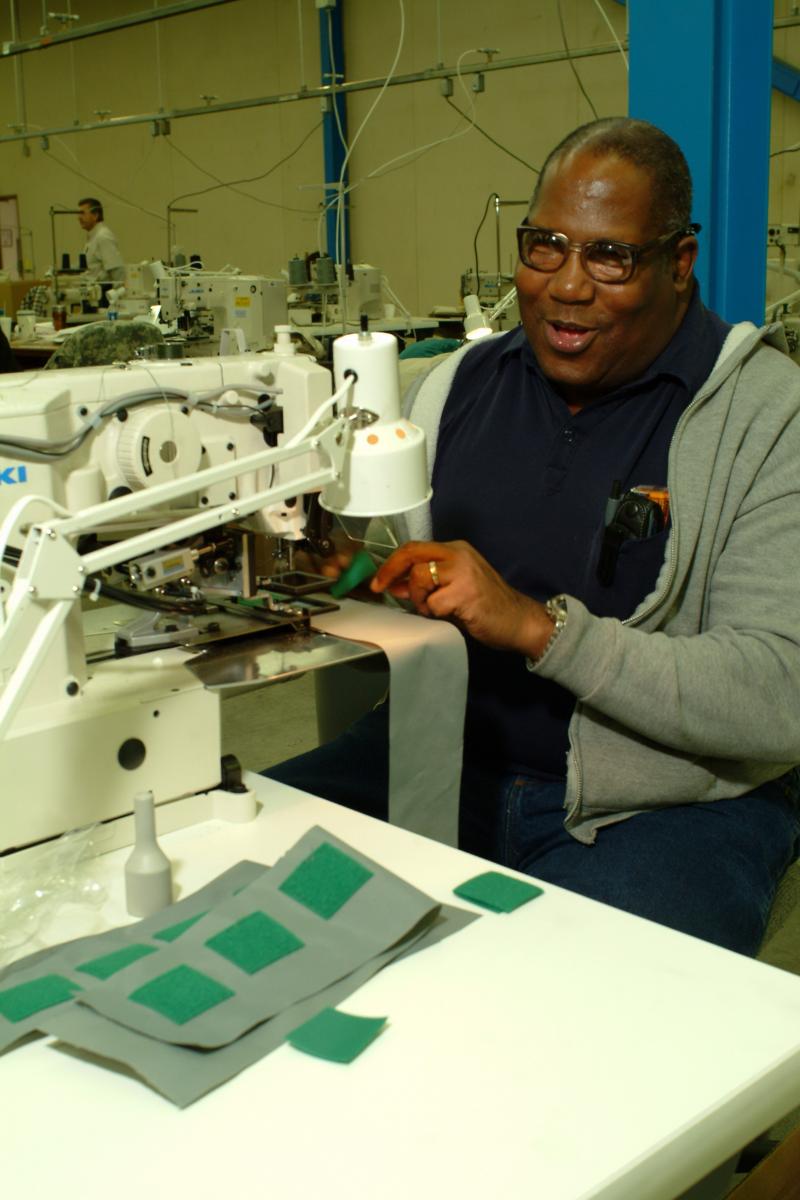 TROY, MICHIGAN – "Give a man a fish and you have fed him for today. Teach a man to fish and you have fed him for a lifetime," an unknown author once observed.
No truer words could ever be said about Winston-Salem Industries for the Blind (IFB) in Winston-Salem, North Carolina.
Over the past seven decades, this bootstrap organization has grown from a two-room workshop with six blind workers into the largest employer of blind and visually impaired people in the state.
Today, more than 375 workers fill annual contracts for labor and services valued in excess of $80 million. Employees receive specialized technical and computer training for the manufacture and sale of products ranging from military uniforms and gear to bedding and household cleaners to office supplies – and even eyeglasses for sighted people.
IFB has been recognized as one of the best places to work in the Piedmont-Triad region and in 2000 was named the "Most Innovative Agency" by the federal General Services Agency.
With the assistance of two grants from The Kresge Foundation, IFB expanded its physical space to accommodate additional programming initiatives and established a new development department to build its internal fundraising capacity.
This two-pronged approach to growth and sustainability has enabled the organization to broaden its historical mission statement of "sales = employment" to include outreach to the community. It has touched the lives of nearly 3,000 individuals – including Mark Murray.
"Winston-Salem Industries for the Blind has given me a feeling of independence, self-esteem and confidence to do anything I want to do," says the 48-year-old Murray, who is married and has a 10-year-old daughter.
When he joined IFB 14 years ago, Murray was taught how to operate a sewing machine on the plant floor. Two years later, he moved to the optical lab where he received training in lens grinding and eyeglass-frame assembly. The introduction of computers with specialized software programs for the blind enabled Murray to continue his upward trajectory.
Five years ago, he was offered the position of sales manager for the mattress department. The promotion enabled him to get off Social Security disability payments for good. "This is real work for real pay," says Murray, who also receives health and pension benefits. "I now earn enough to be totally self-supporting."
In 2003, Kresge awarded IFB a $200,000 facilities capital challenge grant to help fund a $3 million building project. The project included the renovation of a 75,000-square-foot building and the construction of a 40,000-square-foot addition. The addition now houses a new cafeteria offering meals for employees, a low-vision center and space for Brighter Path programs, which train and foster independence in blind children through classroom and experiential offerings.
Following the success of IFB's capital campaign, Kresge made an additional $665,600 grant to support the creation of an annual fundraising program. The funding spanned four years, from 2004 to 2007, and enabled the organization to hire and train a new development staff, purchase donor software and establish a firm base for private fundraising.
"We're now a much stronger development team as a result of that process," says David Barnwell, director of development for IFB.
"Each year, we've made significant increases in either the dollars we've raised or the people we've served because of what we've learned from Kresge and the opportunity the foundation has given us," he adds. "This is a shining example of how Kresge works to foster sustainability."
Barnwell also is the president of A Brighter Path Foundation, which was set up as a supporting philanthropic organization to coordinate fundraising for programmatic activities.
"What's extraordinary about Winston-Salem Industries for the Blind is that it has been able to help individuals who otherwise would not have had an opportunity to work in the general population," explains Virginia L. Romano, Human Services Program Director at Kresge.
"This is a model program," she says, "with great potential for replication in other areas of the country."