Rapson, NEA president share stage at Art X Detroit
DETROIT – Rip Rapson, president of The Kresge Foundation, and Rocco Landesman, chairman of the National Endowment for the Arts (pictured here), discussed the "State of the Arts" at an event held on the campus of Wayne State University Sunday.
Part of "Art X Detroit: Kresge Arts Experience," the public discussion took place in the Hilberry Theatre.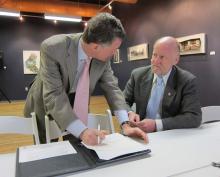 A five-day series of free art exhibitions, music and dance performances, literary readings and panel discussions, Art X Detroit featured all new works created by the 38 Kresge Artist Fellows and Kresge Eminent Artists appearing at more than 40 separate events.
An estimated 10,000 people attended the program of dance and musical performances, literary readings, workshops, panel discussions, public art and special exhibitions at venues located throughout Midtown Detroit's Cultural Center.
Read Rip Rapson's full remarks, "Art X Detroit: Why art matters."