Public health advocate Richard Jackson talks about reshaping the built environment
Kresge's Health Program provided funding for the 2012 public television miniseries "Designing Healthy Communities," hosted by Dr. Richard Jackson, a public health advocate who in recent years has focused on the man-made environment. This year, Kresge reprised that effort with support for community-outreach activities designed around rebroadcasts in five metropolitan areas. Jackson talked about changes he sees as he travels across the country speaking about opportunities to combat chronic diseases by altering the environments where we live, work and play.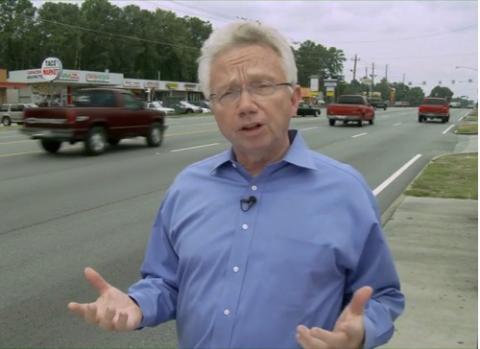 Photo from video: Media Policy Center
Q.  What have you observed and learned as you've visited various communities since the miniseries debuted?
A.  At the local level, a lot of bright young people are moving to smarter urban communities.
Many millennials want walkable neighborhoods. They would rather spend money on shared experiences such as entertainment or food than $10,000 or more a year for a car. Recent college graduates are drawn to active cities where they can bike or use public transportation. Baby boomers also are looking for walkability, lively culture and a sense of community.
University of Oklahoma President David Boren, who has advocated for placemaking and walkable urban neighborhoods in his state, cautions that if more towns in Oklahoma aren't redesigned to include parks, bike paths and other amenities that promote health, safety and a sense of community, increasing numbers of residents actually will leave the state.
Charleston, S.C., is among the cities featured in the video series. Mayor Joe Riley has worked for more than three decades to make Charleston a vibrant, safe city filled with parks and walkable neighborhoods. He is renowned as one of the nation's most popular political leaders.
At the highest levels of government there is increasing awareness of the need for high-quality, affordable housing and reliable public transportation.
Increasingly people ask:  "What do we need to do?"
Q.  What do you tell them?
A. A good place to start is to reconfigure our cities to encourage healthy lifestyles, maximizing opportunities for children and adults to be physically active. We know that adults benefit from 150 minutes of moderate aerobic activity a week and that children need even more.
A community needs to have a shared vision and organize around it to meet residents' intellectual, physical and cultural needs. For many communities, it is an ecological or historic feature or openness to new residents that attracts newcomers, encourages them to stay and promotes social connections and health.
I've visited 50 cities and mid-size towns in the past few years, many in response to the series. Boise, Idaho, was among them. It was a beautiful town a few decades ago, before highways, one-way streets and surface parking lots diminished the city's character and made it difficult for residents to interact and be active in the course of their everyday lives.
Today local hospitals and community leaders have embraced ideas to give Boise a more livable downtown, a hub again. The energy and impetus are coming from neighborhood improvement groups, medical leadership and the health department.
This month, I look forward to visiting Detroit to give a talk sponsored by Lawrence University, the American Institute of Architects, Friends of Eastern Market and Wayne State University. Although I regularly meet with 500 to 1,000 people at meetings like the one in Detroit, the series enables us to share lessons learned about building healthy communities with more people and do it more efficiently.
Q.  What progress do you see in terms of walkable communities?
A.  I wonder if that house in the suburbs with a large yard and long commutes is called the American dream because you have to be asleep to believe it. I always ask audiences: "What is the hardest part of your day?" In most places they answer: "My commute!" When commuting is harder than many people's jobs, no wonder more Americans worry about the world we are leaving our children and grandchildren.
We know how to make people happy. When developers of Grow Community, an urban neighborhood on Bainbridge Island, Wash., started marketing its new solar-powered homes as environmentally sustainable, only a few buyers were interested. However, when they started talking about emotions – happiness and feeling part of a community – the first phase sold in weeks. People vote with their pocketbook and, for many Americans, it is the ultimate vote.
Q.What developments alarm you?
A.The world's superrich, searching for safe places to invest their money, are buying property in U.S. cities, driving up real estate prices. This is happening in Manhattan, San Francisco and other cities, including some of our nation's most charismatic communities. As the very wealthy move in, the middle class and the poor no longer can afford to live in communities where they work, resulting in longer commutes for those who have cars and more urban congestion and air pollution. We need more diversity in our cities, including housing for workers and affordable housing for the poor.
Although I know "gentrification" can have a negative connotation, we need a certain amount of it to assure and support municipal services. But when the workforce cannot afford to get to work – and I am including police, teachers, nurses and food workers – it is unhealthy for a community.
Q. What is your current focus?
A. We're reaching out to transportation professionals and developers, talking about their role in designing healthy communities. I spoke to a thousand of the nation's biggest developers at meetings in Florida and shared with them the 10 principles for building healthy places originally developed by the Atlanta Regional Health Forum and the Atlanta Regional Commission. Since then, I have helped the developers create their own 10 principles specifically for their field. 
I've also been focusing on the relationship between healthy communities and national security. The United States will not be competitive economically or militarily if the health of our people continues to decline. We cannot afford to continue spending 20 percent of our wealth on medical care.
Kresge's effort to promote a shift in emphasis from providing "care" for sick patients to promoting "health" in communities is right on target.  
This also is a pivotal time. We need to address climate change and the health of our citizens or the consequences may be dire. 
Learn about the communities rethinking ways the man-made environment influences health.