Projects exemplify Kresge commitment to Detroit Future City
Development framework gains traction with projects in neighborhoods across Detroit.
A year ago, the long-awaited Detroit Future City framework was released to rousing applause from a room of 250 Detroiters, a cross-section of leaders from politics and business to community activism and philanthropy.
Looking back, Laura Trudeau, Kresge Foundation senior program director overseeing the Detroit Program, recalls the energy in the room as the three-year process of creating a 10-, 20- and 50-year development framework – a process that had involved thousands of Detroiters in community forums and other outreach activities – came to fruition.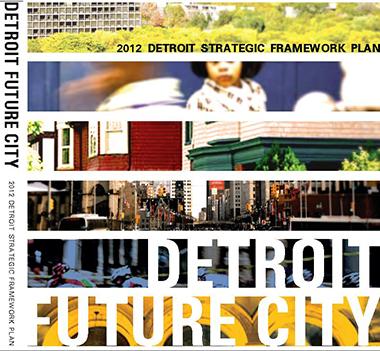 "Even in the weeks leading up to the release, I think the teams involved knew they had something special," Trudeau says. Release of the 347-page document and its vision for job creation, economic growth and vibrant, healthy neighborhoods ensured an immediate boost to development. The wide-ranging framework incorporates strategies for economic growth, land use, city services, neighborhoods and other physical assets, as well as ways to engage citizens to realize those strategies.
"Suddenly you had a book of all these ideas, all this data and a rationale for why you would make one decision over another," she explains. "It can become a guide for the way the city needs to be transformed – economically, physically and socially over the next decade and beyond."
At the same time as the DFC book was released, The Kresge Foundation, after providing funding for the planning process, made an additional pledge "to align every dollar we spend in Detroit with the framework," as Rip Rapson, Kresge president and chief executive officer, put it. That amounted to a five-year, $150 million pledge. 
Since the launch of the framework, Kresge's Detroit Program has redoubled its efforts on two primary strategies – promoting green, healthy, active neighborhoods and a thriving Woodward Corridor while sustaining initiatives to nurture arts and culture, entrepreneurship and mass transit, expand early-childhood education and recognize excellence and innovation in human services. "Every dollar we spend simply has to reinforce the spirit, the letter and the intent of this plan," he adds. "I don't think there's any question that this will have real traction."
learn about related efforts
From promoting homeownership in the Grandmont Rosedale neighborhood to an arts festival the streets of Brightmoor, from work to boost an entrepreneur in Indian Village to involving resident in making neighborhoods safer across the city, Kresge-supported work is aims to align with the Detroit Future City framework. Read about some of our partners and their work.
Kresge is a national foundation dedicated to expanding opportunity in America's cities. It was founded in Detroit in 1924 and is now based in the Detroit suburb of Troy, with a satellite Detroit Program office in Midtown. Kresge's Detroit Program works to promote long-term economic opportunity and re-establish the city as the center of a vibrant region. In recent years, it has provided roughly $25 million a year to nonprofits whose efforts advance that goal.
Efforts in the Woodward Corridor, including the M1 plan for 3.3 miles of light rail in the Woodward Corridor, may be the best known of recent Kresge Detroit efforts. But Trudeau emphasizes the range of work being undertaken by Kresge and numerous parties across the city in alignment with the DFC plan and with the guidance of the Detroit Future City staff and consulting teams.
"People aren't aware of the scope of investments in the neighborhoods," Trudeau says. "The neighborhoods are spread out over such a large geography that people can't feel their impact as readily as they do in the Woodward Corridor."
But through the DFC framework, Kresge and others "can seek out the best opportunities in the city and concentrate on them, and then build on progress to create additional opportunities," she says. "It's not targeting development, but it's about being opportunistic about where there is energy and excitement and dedication to getting things done."
From promoting home ownership in Grandmont Rosedale to an arts festival in the streets of Brightmoor, from boosting a struggling entrepreneur in Indian Village to involving residents to make neighborhoods safer across the city, these are a few examples of those opportunities.
The arts as a neighborhood draw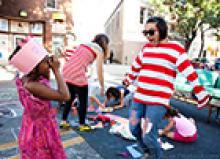 Sidewalk Festival of Performing Arts charges up Brightmoor.
The Sidewalk Festival of the Arts drew a crowd of 800 in the Brightmoor neighborhood last August. That may be tiny compared to the Ann Arbor Art Fair or Grand Rapids' Art Prize, but Brightmoor leaders say it matters to their community much the same way. Read the full story.
 
Uniting organizations across the city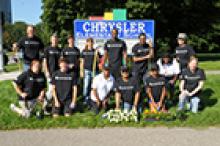 ARISE Detroit! leader sees a 'comeback story.'
The telephone has been ringing off the hook at ARISE Detroit!
The nonprofit that promotes volunteerism, community activism and a positive media image to help transform Detroit has grown from 22 founding organizations in 2006 to more than 400 members. Read the full story.
 
A community house, a neighborhood anchor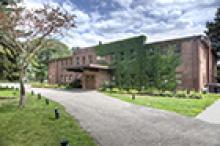 North Rosedale Park is renovating a unique facility.
The crack of a bat bringing cheers from the crowd on a summer afternoon. Kids in Halloween costumes giggling with suspense as they step into a haunted house. These are the kinds of scenes folks in Detroit's North Rosedale Park want to keep alive by renovating their community house, a one-of-a-kind neighborhood asset. Read the full story.
 
Stewing a successful business plan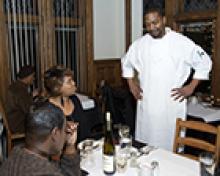 An Indian Village restaurant gets a boost.
Step inside a luxurious, century-old Tudor in Detroit's Indian Village and the aromas of applewood-smoked bacon, Belgian waffles and omelets will tempt you to stay the rest of the winter. That's the intention of owners Herman Jenkins and Clinton M. Moore for their restaurant, The Gathering. The eatery is also an example of how lessons learned in downtown and Midtown are being used to help incubate and promote neighborhood businesses. Read the full story.
 
Making the city safer, one neighborhood at a time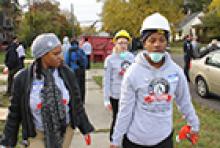 AmeriCorps Urban Safety Program builds on Midtown success story.
Since 2009, the Midtown area of Detroit has seen a 45 percent reduction on crime with an innovative collaboration among residents, law enforcement agencies and volunteers. It's an effort to make the city safer, one neighborhood at a time. Read the full story.
 
Connecting past, present and future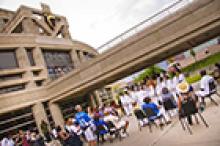 The Charles H. Wright Museum is planning for long-term success.
When Detroit playwright and poet Bill Harris unleashed his word-barrage of down-home storytelling along with bluesman Rev. Robert Jones at the Art X Detroit extravaganza last spring, it was enough to make the audience shout "have mercy." That's the kind of programming that makes the Charles H. Wright Museum of African American History so crucial to Detroit's present and its future. It's a place where artists of today can connect with a tangible past that audiences still need to know about, understand and celebrate. Read the full story.
 
Building a neighborhood
By stepping in to renovate homes, Grandmont Rosedale helps stabilize a community.
Joe Kvoriak grew up in Eastpointe and lived in Chicago. Now he and his wife are Detroiters, thanks to the Grandmont Rosedale Development Corp., which purchases vacant homes, fixes them up and sells them to new homeowners. That's the kind of intervention that can stabilize low-vacancy, traditional Detroit neighborhoods. Read the full story.