Program for international writers provides refuge and contributes to Pittsburgh's revitalization
Creative placemaking takes up residence in historic Central Northside neighborhood.
A struggling Pittsburgh neighborhood is slowly rebounding, thanks in part to a unique arts nonprofit that helps writers unable to live in their home countries build new lives.
City of Asylum Pittsburgh has rehabilitated four dilapidated houses, where the writers live rent free. The organization provides a living stipend and other support, creating a stable environment while the writers work toward financial independence.
"Our community has found that making homes for others is a good way to make a better home for ourselves," says Henry Reese, founder and president of City of Asylum.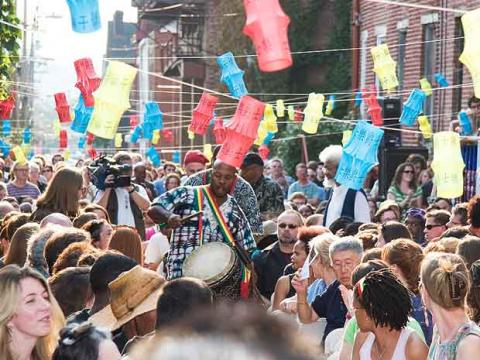 Photos: City of Asylum Pittsburgh
Located in the city's Central Northside, City of Asylum welcomed Chinese poet Huang Xiang, its first exile-in-residence, in 2004. Elated to be out of prison and working free of censorship, Xiang covered the facade of his residence, known as "House Poem," with calligraphies of his poemsand began giving impromptu public readings on the street, in Chinese. "He's a great performer, and the response was overwhelming," Reese says. "We didn't know it, but thanks to Huang Xiang we were doing creative placemaking."
Today, all four City of Asylum houses have text-based artwork on the facades reflecting theinterests of previous or current residents, including Horacio Castellanos Moya from El Salvador, Khet Mar from Burma and Israel Centeno from Venezuela.
City of Asylum tailors its assistance to each writer's skills and needs. Support might include commissioning English translations, finding a publisher or securing employment for a spouse.
Five exiled writers have lived on Sampsonia Way, some for as long as five years. The organization also has hosted 250 writers and other artists from 40 countries since 2005, most not in exile. Some come for readings, others for visiting residencies lasting a few months. Together, the writers and City of Asylum are helping animate the neighborhood through monthly readings, a jazz poetry festival and performances that draw diverse audiences.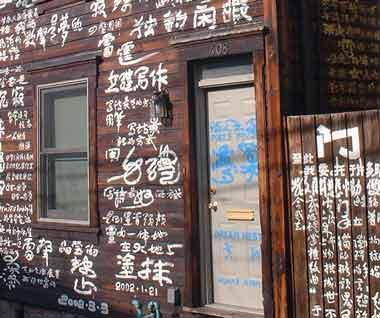 "Pittsburgh is an arts-friendly community," Reese says. "We have the richness people find in New York and other larger cities, but we are easier to navigate."
Reese and his wife, Diane Samuels, a visual artist, have lived on Sampsonia Way since 1980. He is a cofounder and former principal of the telemarketing firm Reese Brothers and says working with nonprofits like Mothers Against Drunk Driving influenced him. "They showed me you could create social change at the grassroots level," says Reese.
In 1997, Reese and Samuels attended a talk by British Indian novelist Salman Rushdie, where they heard about Europe's Cities of Asylum for endangered writers. Reese sold his business in 2002 and in 2004 began organizing City of Asylum Pittsburgh. Their home doubles as a space for readings and other programs.
Kresge's Arts and Culture Program has provided grant support. Kresge works to expand opportunity for low-income people in America's cities. Its Art and Culture Program seeks to build strong, healthy cities by promoting the integration of arts and culture in community revitalization.
City of Asylum Pittsburgh currently is renovating a two-unit apartment building to house more writers. It also is moving ahead with its new Alphabet City literary center, opening in late 2014 in three redeveloped storefronts of a former Masonic Temple. The center will be a configurable space for:
readings, performances and community events
writing workshops and seminars
a bookstore and a restaurant.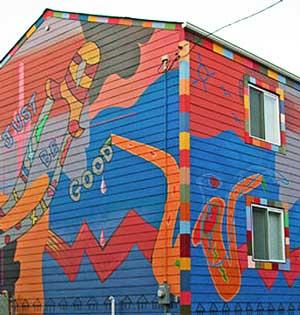 "City of Asylum Pittsburgh is much more than an urban artist residency program for international writers," says Kresge's Regina Smith, a senior program officer.
"This is a multi-faceted approach to a redevelopment project in Central Northside. With the literary center and arts and culture as an integrated component, it brings together a number of partners to help stabilize and revitalize a major corridor in Pittsburgh."
The Urban Redevelopment Authority of Pittsburgh has been working since the mid-1990s to undo the harm inflicted decades earlier when ring roads were built around Central Northside and other city neighborhoods as part of urban renewal, says Paul Svoboda, the authority's manager of special projects.
"We're making progress. The City of Asylum Pittsburgh has had a large impact by integrating the literary angle and engaging the community," Svoboda says. Restaurants are opening in the area and new townhouses are being purchased before they are completed, he notes.
"We continue to be very excited about Henry's plans," says Barbara Talerico, former president of the Central Northside Neighborhood Council, recently renamed the Allegheny City Central Association. The community-based group works to enhance the quality of life for residents.
"Through art we're changing the community while embracing its diversity," Reese says. Historically a high-crime area with a high rate of abandoned property, the Central Northside neighborhood also includes an historic preservation district and a large concentration of housing for low-income residents.
"It's a wonderful, heterogeneous community," Reese says, "and property values are increasing." In addition to fixing up residences, City of Asylum Pittsburgh acquired and tore down a nuisance bar in an irreparable building and is turning the site into a garden for readings and other performances.
"We do a lot of programs in homes and in public spaces like streets, vacant lots and gardens," Reese says. "All our events are free. There's food. Readings are intimate and include opportunities to talk with authors, and it's all in our neighborhood."
Central Northside resident Gwen Moorer attends City of Asylum Pittsburgh readings and other functions. "I see more people from the community participating in the audience," says Moorer, project manager for the City of Pittsburgh Information Systems Department. "Because of City of Asylum's mission, residents of our neighborhood are getting the chance to meet people from other places and learn about their lives."
Part of City of Asylum Pittsburgh's mission is to bridge gaps between people, says Reese. "Art is a way to bring us together."