Program helps family find a home and stabilize a Detroit neighborhood
Grandmont Rosedale group reinforces home ownership and vision of Detroit Future City
This article is part of a package marking work of The Kresge Foundation's Detroit Program in alignment with the Detroit Future City framework, which was announced last year. The Detroit Program seeks to promote long-term economic opportunity and re-establish the city as the center of a vibrant region. Detroit Future City is 10-, 20- and 50-year development framework for those ends, including strategies economic growth, land use, neighborhoods and more. Read an overview of the series and more articles.
Joe Kvoriak grew up in Eastpointe. He's lived in Chicago. And when he took a job with the Jewish Ensemble Theatre (JET) in West Bloomfield in 2010, he and his wife moved to Southfield.
Now they are Detroiters.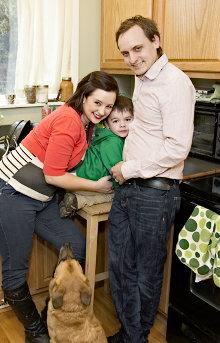 The couple rented a house in Southfield, but they wanted to make a home in Detroit. They looked at houses in several of the city's more stable neighborhoods – University District, Sherwood Forest, Green Acres – but landed in the Grandmont Rosedale community's North Rosedale Park neighborhood. What made the difference for them was a program designed by the Grandmont Rosedale Development Corp. to make it easy for first-time homebuyers to choose Detroit.
"Most of the homes we looked at needed a lot of work," Kvoriak says. "Once we walked into the house we bought in Grandmont Rosedale we saw they had done more than enough, that we could just walk in and plant ourselves. They had completely redone all the hardwood floors and renovated the entire kitchen. That was a big point for us. The house was just ready to move in and get comfortable."
The Kvoriaks were able to buy their home from the nonprofit Grandmont Rosedale Development Corp. in part because of its nationally recognized Community Stabilization Program, developed in 2010 with support from the Ford and Kresge foundations. The program represents the type of intervention required to stabilize low-vacancy, traditional Detroit neighborhoods.
From the viewpoint of Ken Cockrel Jr., executive director of Detroit Future City, low-vacancy neighborhoods "rest on a fragile fence between stabilization and deterioration."
"By strategically coordinating funds and deploying them to resourceful community organizations such as GRDC, these neighborhoods stand to benefit tremendously," Cockrel says.
In 2013 Kresge renewed its support for the program with a two-year grant, enabling the Grandmont Rosedale Development Corp. to purchase vacant houses in the neighborhood, fix them up and sell them to new homeowners. Renovations to these historic homes include energy-efficient windows, new furnaces and updated kitchens. The program includes down payment assistance for qualified buyers, homebuyer credit counseling and other services to increase home values and help buyers. The goal is to stabilize home ownership and home values in a neighborhood where 82 percent of residents are homeowners. That's much higher than the citywide ownership rate of 52.6 percent reported by the U.S. Census Bureau.
"The cost of purchasing and renovating generally exceeds what we can sell the house for," says Tom Goddeeris, executive director of Grandmont Rosedale Development Corp. "The Kresge grant spans the financial gap. … After the Great Recession and the foreclosure crises, we saw home values in our neighborhood really drop. Investors were converting homes into rental properties. We provide an alternative to that. We have been able to bring prices back up to a more stable level. It's not back to where they were yet, but it's better."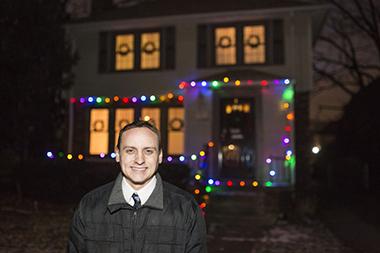 Grandmont Rosedale consists of five distinct neighborhoods on Detroit's northwest side – Grandmont, Grandmont No. 1, Rosedale Park, North Rosedale Park and Minock Park – with about 5,300 homes and 14,000 residents.
The Kvoriaks quickly embraced their new home in Detroit and are pitching in to encourage others to make the choice. Last summer Joe – who now works for Wayne State University's Maggie Allesee Department of Theatre and Dance – taught theater at the annual Grandmont Rosedale Development Corp. Arts Camp for kids and they put on a show. He works on the outreach committee for the North Rosedale Park Community House, where classes and recreational activities are offered, and was recently elected vice president of the North Rosedale Park Civic Association.
Kvoriak is the type of neighbor who knows where people want to live, and there are plenty more like him who add value to Grandmont Rosedale. It's more than what you pay; it's what you make it.
Read an overview of the Detroit Future City package and more articles.