Podcast and purpose bring University of Chicago freshman to Kresge for investments internship
While listening to a podcast earlier this year, Kresge Investment Analyst Tor Martinsen heard about a unique undergraduate internship program at the University of Chicago. The new program, endowed by Chicago native and Ariel Investments Founder John Rogers, was established to intentionally poise women and minority undergraduate students for future positions within the finance industry.
Knowing that people of color are underrepresented in the finance industry, and that Kresge's Investment Office was specifically working to address this talent-pipeline issue, Martinsen told his supervisors, Managing Directors Donna Snider and John Barker, about the program. The foundation immediately signed on to participate in the Ariel Fellows Program and, after interviewing several applicants, welcomed 19-year-old University of Chicago freshman Stephen Blackburn on June 12.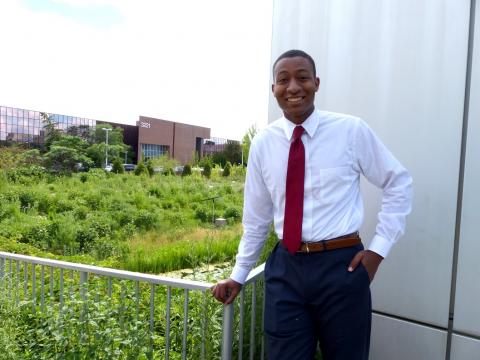 Blackburn, an economics major, read about the internship program earlier this year in a news article about Rogers and was motivated to apply. The application process was rigorous and required attending workshops through the spring semester that taught the soft skills of business, such as networking, interviewing and presentation skills.
Barker said Blackburn stood out among other applicants due to his intellectual curiosity and strong grasp of financial terms, which typically doesn't develop until a student's third or fourth year of business classes. During his interview with Kresge, Blackburn attributed work experience gained from a prior internship at a law office that specialized in financial planning, extensive reading and his interest in business-themed YouTube videos to his solid understanding of the finance world.
Blackburn says during his 10-week internship at Kresge he'd like to learn how to use and apply more financial analysis tools. But the Booth student is most interested in connecting capital and funding to people most in need.
 "We look at our industry and see a troubling lack of diversity that in no way reflects the diversity of the people and populations we serve," said John Barker, managing director of the Investments office. "The industry must do better and Kresge, as a leader in the industry, must also be a leader in creating change."
Barker further added that a diverse team will enable the investment Office to be both more innovative and better decision-makers.
During his internship, Blackburn will rotate among three teams within the foundation and will complete two long-term projects with a special focus on affordable housing.
Barker said the rotation is designed to ensure Blackburn has an opportunity to experience financial roles at Kresge from three distinct angles: operationally, with Kresge's finance and accounting team; programmatically, with its Social Investments Practice team; and due diligence with its Investments Office team. 
Blackburn, a McDonough, Georgia native, was student body president and captain of his high school Mock Trial team. He also co-founded a nonprofit that organized a leadership camp in South Korean neighborhoods focused on English tutoring. 
After a year in college, Blackburn said he's prepared for his next challenge at Kresge, where he'll gain valuable experience. "This opportunity is so rare," Blackburn said. "I can say this isn't something I read about, I was there."
Blackburn is one of eight interns and fellows joining Kresge for the summer; profiles of each will be featured throughout the summer in the weekly Kresge e-newsletter.