Partner Perspective: Reflections on a visit to The Legacy Museum
By Michelle Rhone-Collins 
Chief Executive Officer, LIFT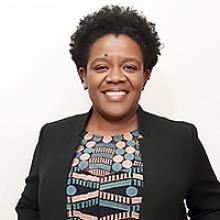 I am still digesting the trip to Montgomery, Alabama with The Kresge Foundation's NextGen Cohort to attend the Legacy Museum and the National Memorial for Peace and Justice.  From beginning to end, each step of this journey was meaningful, and I am grateful for the opportunity to share some of my reflections. 
First of all, no more memorials. The Legacy Museum, located on the site where human beings were separated from families and warehoused before being auctioned, is indeed sacred ground as is the memorial dedicated to those who have been lynched.  It is important for us to have spaces to face history that should not be repeated, to heal, to see and honor those who were so grossly dehumanized.  But I walked below the weighty structures saying the names of those who were lynched, I also thought of the names we call out today of those who have been killed by police brutality.  At the museum, as I was pulled into the cells of the holographic figures sharing firsthand accounts of being separated from family, parents, and loved ones, I felt a pull into the prisons of the millions who are today incarcerated and their pain and trauma still not heard. My mind was abuzz thinking about families being separated at the border, of young men who are tortured poets, genius survivors behind bars.  I shudder to think about the memorials we will need to build to mark the atrocities that are currently occurring in this country.  Memorials are important reminders, but I look forward to the day when we honor this horrific history by acting so differently that we won't need any more memorials.
We need to speak simple truths to power, as painful as they may be.  The way the thread— from slavery to reconstruction to segregation to lynching to the criminal justice system and death row—wove through the exhibit forced us to contend with the fact that they are purposefully connected.  It is quite simple and powerful what this country has done in the name of greed, fear, and hate.   Economic and political justifications seem to give too much credit and avoid contending with a societal level psychosis where laws, religion and policies justified the denigration of others turning evil actions into self-righteous entitlement, normal life, just action; turned lynchings into a social family outing! This pain was delivered on purpose, and the systems we built upon it must be dismantled with purpose because as they are built on a foundation of persistent structural racism going back in our history as a slaveholding country. I seek to more boldly integrate this history in order to get at the roots of the racial wealth gap and the hope, money, and love needed to break through entrenched cycles of trauma.
The enduring power of joy, hope and love. After attending the memorial, I was hot and all kinds of bothered by so much, but most recently by the fact that replicas of structures left for other counties to pick up and take accountability for their role in this horrific history were still there. Seemingly all of them. I was overwhelmed with sadness and anger boarding the bus. A woman sat next to me and, though strangers, we openly shared how we felt. She believed God made us Black to go through these experiences because we were the chosen ones. She went on to share that she loves to travel, particularly to the continent of Africa and makes a point to bring home gems for her children.  One day, she told them to take out their paints and combine the colors of those rocks...the pink, green blue, red, etc.  The color they ended up with was brown- a combination of all the colors of the gems.  She told me that she tells her children that they are the most precious gem and their brown skin reflects that.   This got through to me so beautiful, so hopeful.  This power of hope that endures, the depths of strength, the beauty of our joyful expression and love has been and will continue to be.  Ensuring we can continue to be strong, joyful, playful, loving and not bogged down by the anger and sadness.  That is the salve to keep on going even in the midst of the struggle.
Though I am still absorbing, I am so grateful for this experience to deepen my work as the humble continuation of those who came before me and the responsibility to those whose lives and light were taken.  I am so grateful for the reminder that as we do this work, we beat the drum, we bend the arc, we call their names and we build a future where we will not need any more memorials.