With Parent Education and Support, AVANCE Strengthens At-risk Families and Increases the Life Opportunities for their Children
A $2.55 Million Grant Will Support Organizational Growth
TROY, MICHIGAN – Hector Ledesma Jr. started life in humble surroundings with few prospects of ever going to college, earning a professional salary or achieving prominence in the television industry. Yet, today he is a well-known sports broadcaster for KABB TV, the Fox affiliate station in his hometown of San Antonio, Texas. He also holds a dual degree in broadcast journalism and speech communication from Syracuse University.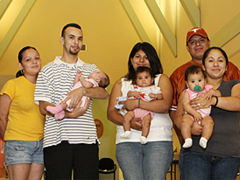 Looking back on his childhood years, the 29-year-old broadcaster credits the nonprofit education and support organization known as AVANCE for making a significant difference in his family life and changing the course of his destiny.
Started in 1973 by San Antonio school teacher Gloria Rodriguez, AVANCE offers a bilingual, culturally sensitive parent-child education program designed to help parents prepare their children for school during the critical first three years of life by expanding parental knowledge, attitudes, skills and behavior.
Early childhood research supports the critical need for parents to begin teaching their children from infancy. The social, emotional and behavioral advances made by a child during these pre-school years are fundamental pre-requisites for learning readiness.
Texas-based AVANCE serves primarily Hispanic families in low-income, at-risk communities with a research-proven model that is preventive, community-based, two-generation focused and comprehensive in scope.
"AVANCE helped lay the foundation for how my family raised me," Ledesma says. "Mom and Dad were only 22 years old when I was born. Both had grown up in pretty poor circumstances and knew only one world. AVANCE helped open their eyes to the value of education and the opportunities it offers."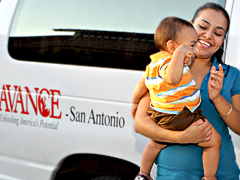 After his mother, Diana, attended AVANCE parenting classes for nine months, she assumed a more active role in raising her son, overseeing his homework and attending all his soccer and basketball games. She and his father, Hector Sr., worked hard to put their only child through private schools. Later, Diana was encouraged to resume her own education leading to a GED, and last summer she received an honorary diploma from her former high school.
"AVANCE is critical to the communities it serves because it exposes parents to the possibility of a better life for themselves and their children," says Ledesma, who now sits on the board of directors of the nonprofit's San Antonio chapter.
Over the past 35 years, AVANCE (the Spanish word for "advance") has replicated its effective, sustainable business model throughout Texas, where it currently maintains 10 chapters and 90 to 100 program sites, serving 3,400 families. Now, the nonprofit is poised to expand its parent-child education program into two nearby states. The Kresge Foundation has awarded AVANCE a $2.55 million grant to provide the operating support needed for continued growth and expansion.
"Kresge's grant will enable us to build the infrastructure and internal capabilities of our overall organization, which in turn will support our in-state and out-of-state expansion efforts," says Sylvia G. Garcia, AVANCE's president and CEO. The organization's five-year plan calls for establishing chapters in California and New Mexico, and, at the same time, strengthening existing chapters and the national office.
Garcia attributes the long-term success of AVANCE's educational approach to its solid grounding in the human-development principles set forth by the late Cornell University Professor Urie Bronfenbrenner, also the co-founder of Head Start, and to the proactive recruitment of neighborhood residents who participate, volunteer and work in the program.
"Studies have shown that schoolchildren coming from poverty start out behind their peers, and that initial as well as continual parental involvement in the education of a child is critical for school success," Garcia says. School-readiness assessments show AVANCE children are rated at 90 percent, compared to 35 percent nationally. Furthermore, a 17-year reunion survey revealed that 94 percent of AVANCE children graduated from high school and 43 percent attended college.
"AVANCE is an exemplary organization that is having a significant impact on the health and well-being of young children, especially in low-income Hispanic communities," says Kresge's David Fukuzawa, a senior program officer.