Pair of publications recognize members of Kresge investment staff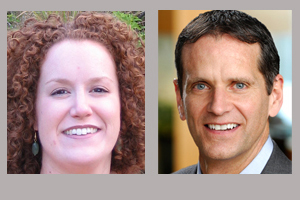 National investment publications have recognized two members of The Kresge Foundation's Investment Group for excellence in their field.
Investment Director Donna L. Snider was included a story The Chief Investment Officer Forty (Mostly) Under Forty in Asset International's "aiCIO" magazine in April.
Robert Manilla, vice president and chief investment officer, was Institutional Investor magazine's large foundation manager of the year this week. The magazine has posted the first in a series of videos featuring its award winners discussing current issues. (Manilla appears two minutes into the presentation.) A story based on a panel discussion with all the award winners will apear in the next issue.
Snider joined Kresge Foundation in 2009, after six years at Merrill Lynch. A Notre Dame graduate, she earned an MBA at the University of Chicago.
Manilla spent 21 years at Chrysler before coming to Kresge in 2008. He earned his MBA at the University of Detroit Mercy and an undergraduate degree in finance from Oakland University.
The foundation began bringing its investment operations in house in 2005. The 11-member team is responsible for managing Kresge's $3 billion in assets.